Issue

December 2018 - January 2019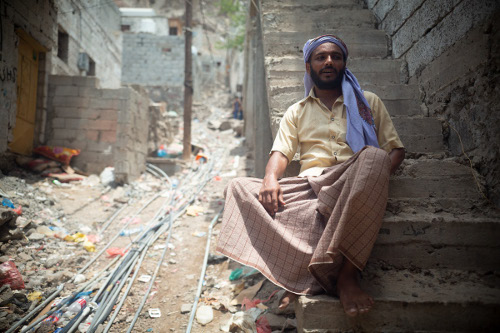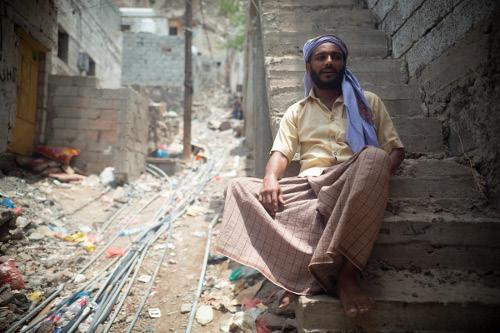 After fleeing Hodeidah, Ameen Hamanah and his family now live in Aden, renting a house with financial support from UNHCR. Photo: UNOCHA/Matteo Minasi
Extremely late in the day, in mid-November, Britain finally put forward a draft UN resolution calling for an immediate ceasefire in and around the Yemeni port city of Hodeidah, and setting out a possible peace process. This was over two weeks after the US started calling for a ceasefire in Yemen.
As Labour shadow foreign secretary, Emily Thornberry MP, pointed out, a British ceasefire resolution was actually drafted after a Saudi coalition airstrike in October 2016 on a funeral ceremony that killed 140 mourners and wounded more than 525 people. Britain announced that it would present a draft ceasefire resolution to the UN security council.
It didn't.
It took two more years, a high-profile assassination and the beginnings of a famine for Britain to finally take some action.
85,000 Yemeni children under five may have already died from hunger since a Saudi-led intervention escalated the war in Yemen in March 2015.
That was the estimate reported by Save the Children on 20 November, using UN data. Tamer Kirolos, Save the Children's country director in Yemen, said: 'Children who die in this way suffer immensely as their vital organ functions slow down and eventually stop. Their immune systems are so weak they are more prone to infections with some too frail to even cry.'
As a humanitarian catastrophe unfolds in Yemen and 14 million people face famine, pressure is mounting on the British government to stop selling weapons to Saudi Arabia, the most controversial part of its wide-ranging support for the Saudi war effort.
In mid-November, British foreign secretary Jeremy Hunt said of the war in Yemen: 'The only solution is now a political decision to set aside arms and pursue peace.' He did not mean setting aside British arms sales.
Aid agencies are particularly concerned by the Saudi-led coalition's ongoing assault on Hodeidah, the country's humanitarian lifeline, which handles 80 percent of Yemen's aid, fuel and food.
Save the Children staff in Hodeidah reported almost 100 airstrikes over the first weekend in November, five times as many as in the whole first week of October. Fighting around Hodeidah blocked most roads during November, forcing aid agencies to rely on other, more difficult and much slower routes.
European action
Global concern over the kingdom's aggressive foreign policy intensified after the assassination of a Saudi journalist in early October. Jamal Ahmad Khashoggi was killed by Saudi security officials inside the Saudi consulate in Istanbul, Turkey, on 2 October.
In October and November, five European governments (Germany, Norway, Denmark, Finland and the Netherlands) halted new arms sales to the kingdom.
In October, the European parliament twice passed non-binding motions calling for an EU-wide arms embargo on Saudi Arabia. The parliament started pressing for an EU arms embargo back in February 2016.
These moves followed action in June in Belgium, when a court in the Walloon region suspended four already-approved arms export licences for Saudi Arabia.
There have been no weapons sales by Austrian firms since March 2015, when the Saudi assault on Yemen began.
Unreliable friends
The government of Sweden says it has not issued licences for new military equipment for Saudi Arabia since March 2015, but it has insisted on continuing to export spare parts and maintenance for previously-exported drones, military software and other equipment.
The case of Germany is complicated because the administration of Angela Merkel has changed its mind before.
Germany decided to stop weapons exports to Saudi Arabia in January 2015, before the Saudi intervention in Yemen began, but then resumed exports.
At the beginning of this year, Merkel's new coalition government agreed to stop arms sales to all countries directly involved in the Yemen war, only to then sign off on the export of four artillery targeting systems to Saudi Arabia (this was revealed in September).
Spain, another of Europe's biggest arms exporters, has also zigzagged in this area.
The government cancelled an already-approved arms deal in September, agreeing to pay back £7.8m the Spanish army had already received for 400 US-made laser-guided bombs.
However, the sale then went through after Saudi Arabia threatened to retaliate by cancelling other contracts, including a £1.6bn order for five Spanish-made warships.
In November, Spain refused to halt all arms sales, saying that it did not sell weapons that could be used on civilians – it sells things like warships instead.
Military support
Even taking these complications into account, there is considerable pressure on Britain over its massive arms sales to Saudi Arabia.
Official statistics analysed by the Campaign Against Arms Trade show that since the bombing of Yemen began in 2015, the British government has licensed £4.7bn worth of arms to Saudi Arabia, including: £2.7bn worth of ML10 licences (for aircraft, helicopters and drones) and £1.9bn worth of ML4 licences (for grenades, bombs, missiles and countermeasures).
Alongside the military hardware, the British government and British arms companies also supply large numbers of personnel to Saudi Arabia – some providing direct military assistance to the war effort against Yemen.
A report earlier in 2018 by British researchers Mike Lewis and Katherine Templar found that there were 7,000 employees of UK contractor companies, UK civil servants and seconded UK military personnel, present in Saudi Arabia to support the Saudi security forces.
The British government says that no British personnel (military or from arms company BAE Systems) are involved in loading weapons for airstrikes in Yemen.
Mike Lewis points out that this avoids the documented fact that BAE Systems personnel are asked to supervise the loading of munitions onto Tornado and Eurofighter Typhoon aircraft in the Saudi air force. He observes that it's possible that there may be regulations stopping them from supervising the loading of munitions for Yemen operations, but neither the government nor BAE Systems have made this claim.
The British ministry of defence (MoD) confirmed in January 2016 that British military advisers were working in the Saudi control rooms which oversee bombing raids in Yemen.
The MoD said the British personnel were only 'offering Saudi Arabia advice and training on best practice targeting techniques to help ensure continued compliance with international humanitarian law'.
A UN human rights investigation in August found that some Saudi coalition airstrikes might be war crimes: 'Coalition air strikes have caused most of the documented civilian casualties. In the past three years, such air strikes have hit residential areas, markets, funerals, weddings, detention facilities, civilian boats and even medical facilities.'
In October, the UN committee on the rights of the child called for an end to Saudi airstrikes. The panel vice-chair, Clarence Nelson, said: 'Nearly 20 percent of the deaths of civilians are children.'
UN figures showed that at least 1,248 children had been killed and nearly the same number wounded in Saudi coalition air strikes since March 2015.
At least 1,248 Yemeni children have benefited from British advice and training on how to comply with international law.
Political support
Apart from its practical help, the British government has also been giving unconditional political support to the Saudi war effort.
Britain is the 'pen holder' on Yemen at the UN security council, meaning that the British government has the power to draft and put forward security council documents on Yemen: press statements, resolutions, presidential statements and so on.
These powers have not been used to help bring peace to Yemen until now, very, very late in the day.