Issue

December 2018 - January 2019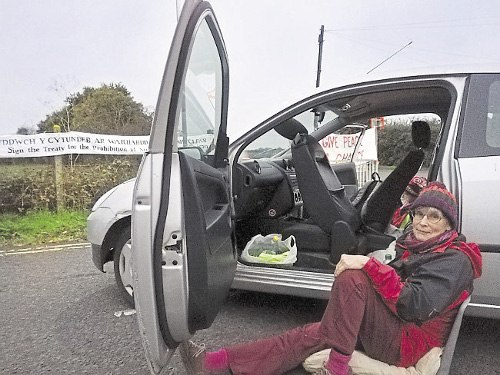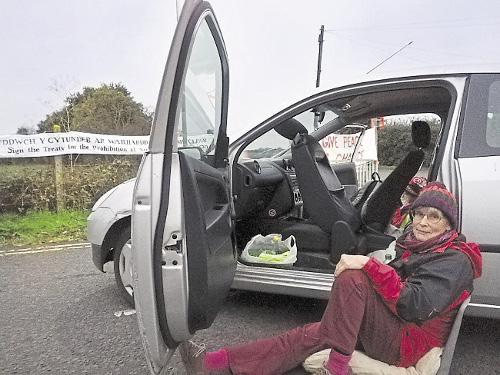 Julia Mercer locked-on, AWE Burghfield, 24 October. Photo: Trident Ploughshares
There was a five-hour blockade of the Atomic Weapons Establishment (AWE) Burghfield, in Berkshire, where British nuclear warheads are assembled, by activists from Trident Ploughshares. The blockade started at 6.30am on 24 October, the 73rd anniversary of the birth of the UN.
Blockader Jim Davies, a 70-year-old retired civil servant, said: 'I've never been involved in an action like this before and it's heartening and empowering to feel that something can be done!'
The Mearings, a private road with access to the Burghfield main gate, was sealed off by cars at both ends. Each car was immobilised by two people 'locking-on' to each other through the car; their hands were chained together inside lock-on tubes.
The construction gate to AWE Burghfield was shut by five people lying down in front of it, all in a line with their arms joined together in lock-on tubes.
The lock-ons proved effective, the base being fully blockaded for over five hours. The last blockader was not cut free till 5pm, so those involved endured being locked-on for hours and being carefully cut out by police cutting-teams.
On this occasion, the blockaders were made more comfortable by being supplied with mattresses to lie on. Supporters provided food, drink, transport and personal support.
After being cut free, nine were arrested and charged and later released on bail to appear at Reading magistrates' court. On 22 November, their cases were postponed without a date being fixed.