Issue

December 2018 - January 2019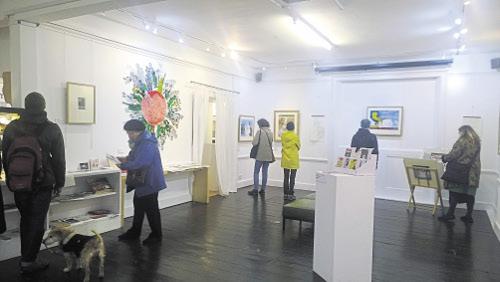 The World is My Country exhibition at Hastings Arts Forum. On the left is Wild Man, Wild Woman, Iron Water. Wild Men or Green Men slipped into the woods after the Norman Conquest and resisted.
After four years of touring, PN's The World is My Country exhibition had its final show in Hastings from 30 October to 11 November.

Emily Johns displayed her powerful posters celebrating anti-war resistance during the First World War – and some other political and war-related work.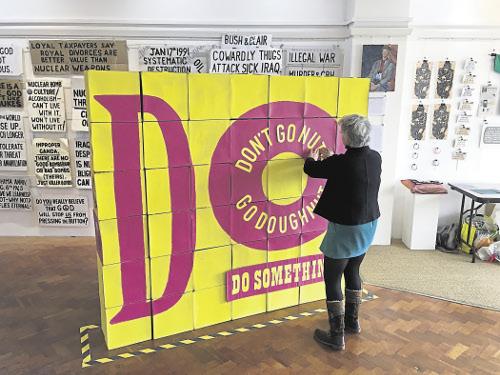 Erica Smith, the main organiser of Protest and Thrive, finishes her cardboard box wall of protest art inspired by Corita Kent, Catholic nun and '60s Pop Artist.
Along with fellow PN staffer Gabriel Carlyle, Emily gave a talk about the people remembered in the exhibition on 9 November, and the anti-war German revolution of 1918 (see PN 2622–2623).

On 10 November, the exhibition space was used for a day-long workshop called 'How We Win: Exploring Nonviolent Resistance'.

Protest and Thrive, in the adjoining gallery, focused on the political use of text, with placards by Richard Crump, letterpress posters by Dennis Gould, and other work by Rachael House, Leeds Postcards, Esme Needham, Mark Pawson and Erica Smith.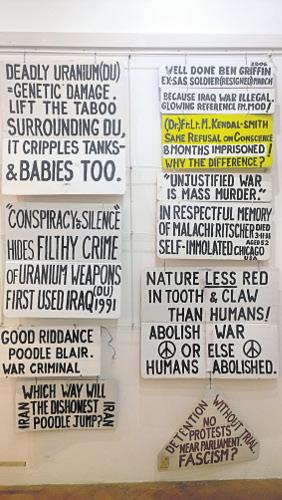 One