Issue

December 2018 - January 2019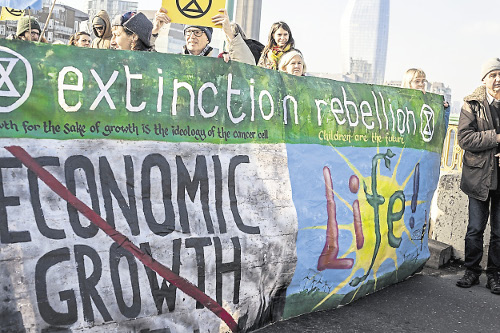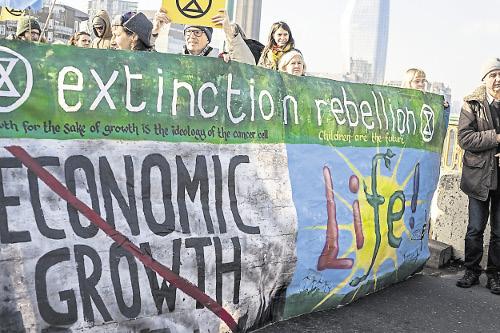 Banner on Southwark bridge during Extinction Rebellion occupation, 17 November. Photo: Francesca Harris
New climate direct action group Extinction Rebellion (XR) held three large civil disobedience protests in central London in October and November, as well as a number of smaller actions.
The group has received wide backing for its militant stand against runaway climate change. 100 academics wrote a letter of support on 26 October, including former archbishop of Canterbury, Rowan Williams. (See pp8–9 for details of XR's demands, PN staffer Gabriel Carlyle's sceptical reaction, and XR's response.)
On 31 October, more than 1,000 supporters blocked the roads around Parliament Square, next to the houses of parliament, as XR issued its 'declaration of rebellion'. 15 people were arrested.
On 17 November, on its first day of rebellion, XR estimated that 6,000 people came to occupy and block five major bridges across the Thames in central London: Blackfriars, Lambeth, Southwark, Waterloo and Westminster bridges. 85 activists were reportedly arrested.
On 24 November, its second day of rebellion, XR estimated that 2,000 protesters came to disrupt London, many of them occupying Parliament Square once again. 14 were arrested, all on criminal damage charges.
Occupy Greenpeace
There have been many smaller actions, including 'swarming' blockades of traffic in central London, and a superglue blockade of the department of business, energy and industrial strategy on 12 November which led to 22 arrests.
One of XR's first actions was an occupation of the London offices of Greenpeace on 17 October, demanding that the NGO email its members to encourage them to take part in the rebellion actions in November.
The first person to appear in court in connection with XR was a member of Christian Climate Action, Ruth Jarman, who was arrested after she poured red paint in front of the Brazilian embassy, to represent the blood of individuals around the world suffering the effects of climate change. She was held overnight and appeared in court on 17 November. Her trial is set for 2 January.