Issue

December 2020 - January 2021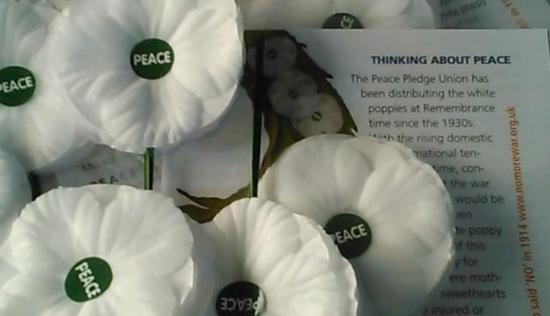 Launching this year's white poppy campaign, Geoff Tibbs of the Peace Pledge Union (PPU) encouraged people in the UK to 'remember Yemen', where British-trained Saudi forces are targeting civilians with British-made weapons.
Despite the closure of shops and other outlets, white poppy sales were only slightly below last year's level.
There was a sharp rise in orders from schools. The PPU, who produce and distribute the white poppies, received over 200 orders for remembrance resource packs for schools, compared to 59 last year.
'The Black Lives Matter movement has reminded us that we need to explore the messy and complex realities of history,' said Vix Lothian, a teacher on the Isle of Wight. 'We need to remember colonial wars and current wars as well as the world wars, and be prepared to explore difficult questions.'
White poppy wreaths were laid in socially-distanced ceremonies in at least 16 towns and cities around Britain.
On 8 November over 300 people attended an online ceremony that saw contributions from Yemeni-Scouse poet Amina Atiq and singer-songwriter Penny Stone.
White poppies stand for remembrance for all victims of war, a commitment to peace and a rejection of militarism.