Issue

December 2020 - January 2021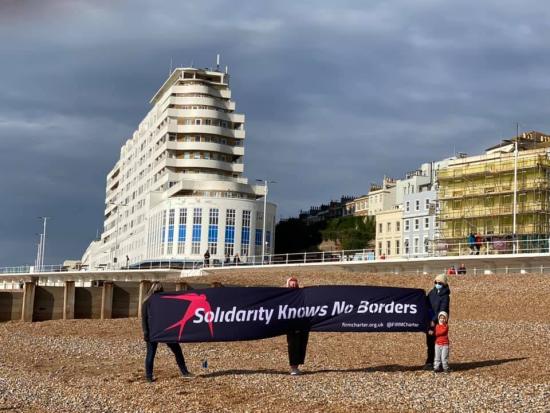 From 9 – 12 October, Migrants Organise, Kanlungan and many other groups joined together for a weekend of action against the home office's 'hostile environment'.
The 'hostile environment' is a web of immigration controls forcing NHS staff, employers, landlords and others to make life unbearable for undocumented migrants.
The weekend of action was exactly 10 years since the deportation-murder of Jimmy Mubenga, who an inquest said was 'unlawfully killed' while being restrained by three G4S guards 'using unreasonable force' on a deportation flight.
In Oxford, there was a vigil to remember Jimmy Mubenga in Bonn Square. Medact Brighton also organised a vigil for Jimmy and demanded they be allowed to care for patients without passports.
Outside Twickenham stadium in London, protesters called for the England rugby team to end their sponsorship deal with British Airways, the company that flew Jimmy Mubenga to his death.
Docs not cops
The weekend was also three years since the NHS began forcing undocumented migrants to pay before receiving treatment.
Outside a branch of the home office in Sheffield, 70 people called for justice for Simba Mujakachi, a migrant who is facing a £100,000 bill after suffering an avoidable, life-changing stroke at the age of 30. Protesters also created a 'Hospitable Environment', covering the building in messages of welcome.
In Manchester, campaigners called for the end of the hostile environment within the NHS, which includes the sharing of patient data with the home office.
Abergavenny protesters created a huge banner that read: 'Change the Story. Migration is not a crime. Hospitality not hostility. Refugees welcome. Create safe routes now.'
They later wrapped the banner around trees in the town square.
Online events included: a national interactive webinar on the rights of undocumented migrants; an online rally in Merseyside; a JusticeForSimba campaign in Waltham Forest; a Zoom vigil in Yorkshire; and a student-led campaign focusing on the need for fair treatment for international students and an end to the hostile environment within British universities.
At Becket House immigration reporting centre in Central London, protesters highlighted the fact that in-person reporting had not been suspended (it has continued during the second lockdown).
To finish the weekend, protesters gathered in a COVID-safe way outside the home office in London for powerful speeches and a candlelit vigil.
Aliya Yule of Migrants Organise, and a facilitator of the weekend of action, said at the vigil: 'When we say Black Lives Matter it means that the hostile environment must end.'