Issue

December 2020 - January 2021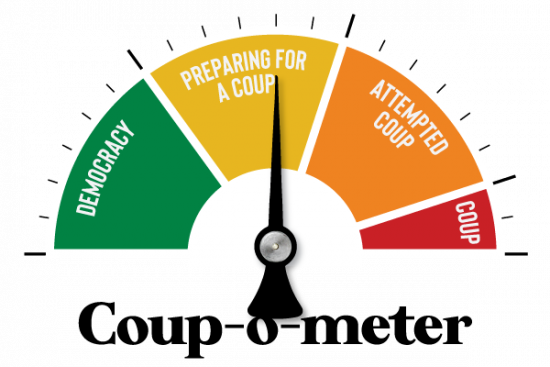 As we went to press, Donald Trump had just sent a tweet which was the closest thing to conceding that he's lost the US presidential election that we're probably going to get.
In the weeks leading up to 3 November, there was anxiety across the political spectrum that Trump might try to hang onto power despite losing the election. In the end, it turned out that he didn't have the determination, organisation or good judgement to mount a serious threat to the political system.
Investigative journalist Alan Nairn put it well on Democracy Now!: 'on election night, in the crucial hours after late election night, when Trump went into his tent and started sulking like a bully who had been thwarted, I think he may have missed his moment, because that was the key moment to call his people onto the streets and start stopping and trashing the votes, and he failed to do that.'
If Trump had seized his moment for creating chaos, his forces would have been met by a national nonviolent mobilisation against the coup attempt.
Tens of thousands of US activists had been preparing for that exact situation. They had been organised by dozens of groups, some of them thrown together specifically to oppose a Trump coup.
Choose Democracy, one of the new groups, held online anti-coup trainings with over 1,000 participants at a time.
In total, the Choose Democracy workshops, led by George Lakey, prepared nearly 10,000 people to oppose Trump's power grab.
Over 37,000 people signed the Choose Democracy pledge of resistance, committing themselves to civil disobedience in the event of an attempted coup.
Another new project, Protect the Results, was a coalition of 165 major US organisations, including the Women's March, the Sierra Club, Republicans for the Rule of Law, Black Lives Matter, the SEIU union, Move.On, Planned Parenthood, Greenpeace and the election-focused part of 350.org.
Protect the Results member groups held over 100 events around the US in the days after the presidential election, and were prepared to launch a national mobilisation if Trump interfered with the vote.
Another specific anti-coup group, Hold The Line, was created by four activists from different organisations (including the International Centre for Nonviolent Conflict).
They published an election protection manual – Hold the Line: A Guide to Defending Democracy – to help local groups pressure civilian, police and military officials in every state to protect the integrity of the election.
It was an impressive effort in nonviolent deterrence and preparation.