Issue

December 2019 - January 2020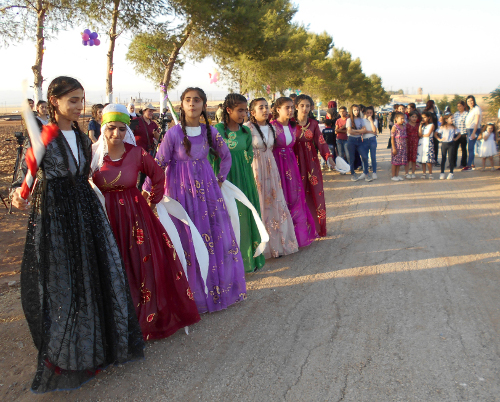 Dancing on 28 September at a women's food festival in Tirbespiye organised by the Women's Economy Committee shortly before the Turkish invasion of Rojava. Photo: Co-operation in Mesopotamia
People in North East Syria– the region commonly known as Rojava – are collectively building a society based on principles of direct democracy, ecology, and women's liberation, with co-operation playing a crucial role in rebuilding their economy.
On the morning of 9 October, Turkish state military forces began to bombard cities in Rojava – and also began incursions across the border, particularly in the region around Girê Spî (Tel Abyad) and Serê Kaniyê, which is now under full occupation by Turkish forces.
Turkey has faced accusations of ethnic cleansing and war crimes, including the use of banned chemical weapons. On top of this, and emboldened by it, ISIS is regaining strength in the region and sleeper cell attacks have increased by 48 per cent since the start of the invasion.
"Direct democracy, ecology, and women's liberation"
The Turkish military and their allied jihadist militias are attacking civilians, as well as military positions, with aerial bombardment and tanks on the ground; destroying hospitals, houses, electricity and water supplies. The illegal invasion has so far killed over 300 civilians, and around 300,000 people have been displaced.
Rojava Information Centre reports that co-operatives, as well as supermarkets, food stores and workshops are being looted in Turkish-occupied Serekaniye.
There have been wide-scale crimes reported against civilians. 500 schools have stopped training and education, and not only in the areas under occupation.
There are numerous reports of attacks on ambulances in particular. Heyva Sor (the Kurdish Red Crescent – the only emergency aid charity on the ground) have been removing their logos from ambulances to avoid being targeted.
Massive demonstrations have taken place all over the world. In the UK, they have been happening in London, Edinburgh, Manchester, Leeds, Liverpool, Oxford, Bristol, Brighton, Reading and more. The first huge mobilisation in London on 13 October saw an estimated 22,000 people take to the streets.
Following these massive protests, on 15 October the British government suspended new arms sales to Turkey.
This followed a halt on arms export licences by the governments of several European countries, including Norway, Finland, the Netherlands, France, and even Turkey's historical ally Germany.
"In London on 13 October an estimated 22,000 people take to the streets"
This is a good start and shows the strength of the protests, but suspending new arms export licences is not enough, we must demand that the British and all other governments stop arming Turkey entirely.
Following calls from friends on the ground in Rojava to continue and expand actions and protests, the Solidarity Economy Association released a statement calling for co-operatives to #RiseUp4Rojava.
The following day, CECOP/CICOPA Europe, the European confederation of industrial and service co-operatives, published a statement of solidarity with the co-op movement in Northern Syria.
The statement was retweeted by Co-operatives UK, the biggest umbrella organisation of UK co-operatives, and Footprint Workers' Coop in Leeds.
On 17 October, at the ICA conference in Kigali, Rwanda, a statement was read out from an internationalist from the UK who is working in Rojava as part of the Make Rojava Green Again campaign.
The International Co-operative Alliance (ICA) is one of the oldest non-governmental organisations and one of the largest, representing 1.2 billion co-operative members on the planet.
On 22 October, the Co-operative News ran a feature about the call made by CICOPA in Rwanda.
A ceasefire was declared on 17 October, but Turkey has continued to fire on Rojava and carry out drone strikes regardless, and there has been no ceasefire, despite many different political moves and deals between different states.
US president Donald Trump is now sending more troops to Northeast Syria – to guard the oil. Despite all of this, fighting continues ferociously and it is vital that we maintain political pressure, continue to mobilise and take actions to show all those responsible that Rojava is not alone.
What can we do?
Get in touch – if you are a co-operative wanting to support Rojava, please contact us: contact@mesopotamia.coop
Fundraise – there are current crowdfunders for Heyva Sor, the only charity on the ground dealing with all of the civilian casualties. Please support them in any way you can.
Boycott – there is currently a big call to boycott Turkey in lots of different areas, including holidays, academic conferences, cultural events and certain products.
Mobilise – Demonstrations are still taking place every week in many cities around the UK, as well as all over the world. Connect with your local Kurdish community or solidarity group. The resistance must continue, the current situation must not become normalised in any way. Send messages of support / display them in your physical space – co-operatives and other supportive businesses, unions and community groups can display information about what is happening in Rojava to draw the attention of the wider public to what is happening. These could include specific calls to action, for example, donate to Heyva Sor, write to your MP (we have a template letter for this), sign the petition, connect with your local Kurdish community or solidarity group.
Use the tag
#CoopsRiseUp4Rojava on social media. Follow Riseup4rojava and WomenDefendRojava to keep up with the latest developments and calls to action.