Issue

December 2019 - January 2020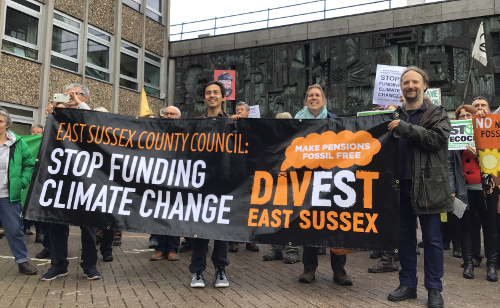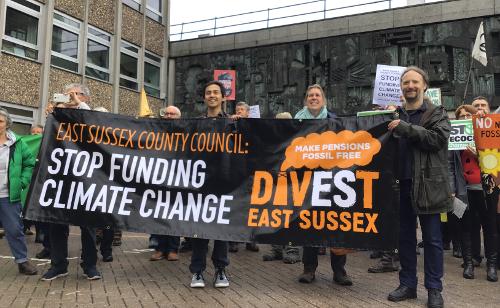 Divest East Sussex demonstrates outside a meeting of East Sussex county council, 15 October. Photo: Divest East Sussex
Climate action coalition Divest East Sussex is gearing up for nonviolent direct action after the first phase of its campaign came to a head on 15 October.
That was the day East Sussex county council was forced to hold a debate on its continued role in funding climate change after Divest East Sussex collected over 5,300 signatures on a petition demanding it stop investing in oil and gas companies.
The council voted to continue investing in fossil fuels.
At the same meeting, the council passed a motion declaring a 'climate emergency'.
Julia Hilton from Divest East Sussex said: 'It's breathtaking hypocrisy for East Sussex County Council to declare a climate emergency while continuing to invest in the very companies that are driving the climate crisis – and a clear sign of its contempt for all those of us who've been demanding urgent action to tackle the climate crisis. This was a litmus test for whether the council is serious about tackling climate change and they've blown it on the day of their declaration.'
The county council currently invests £145 million of the East Sussex pension fund in fossil fuel companies such as Exxon, Shell and BP.
On 19 November, hand-embroidered ties were delivered to the five members of the East Sussex pension committee.
The ties, hand-embroidered by the Climate Craftivists, each carried the Divest East Sussex logo, the councillor's initials, and an image of something close to the heart of the councillor concerned.
Lynne Salvage from Climate Craftivists said: 'We have delivered these bespoke, unique hand-embroidered ties to Councillors Fox, Tutt, Webb, Elford and Enever as part of an invitation to them to set a date for divesting the East Sussex Pension Fund from the fossil fuel investments that are threatening the survival of my daughter and her children. We hope that they will be proud to wear them when they meet to become members of the global divestment "club".'
Deeds not words
On 25 November, the campaign launched a 'Deeds not Words!' action pledge outside County Hall in Lewes – with women dressed as suffragettes.
On 3 December, the next full council meeting, the campaign will assemble 'Santas and elves against funding climate change' outside County Hall to not give presents to councillors who voted to continue fossil fuel investments.