Issue

December 2019 - January 2020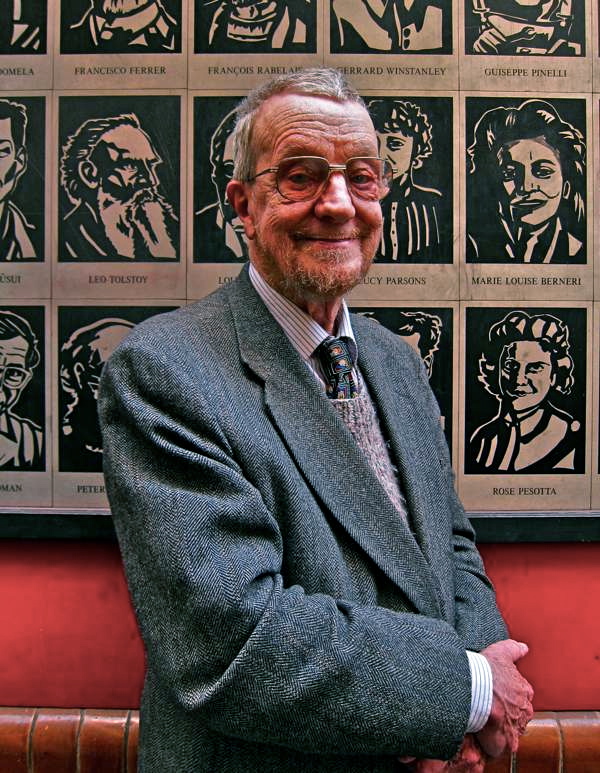 Life-long anarchist cartoonist Donald Rooum will perhaps be remembered best for his Wildcat cartoons about anarchism and the anarchist movement – and for the quick-witted actions that led to the exposure of the corrupt London police officer, Harold Challenor, in 1963 (see our last issue for details).
Born and raised in a working-class family in Bradford, Donald came across anarchism during a day trip to London, at Speakers' Corner in Hyde Park, in the summer of 1944.
He bought War Commentary and Alexander Berkman's ABC of Anarchism and never looked back. The 16-year-old Donald became a subscriber to War Commentary, which soon reverted to its original name, Freedom.
When Donald came to London 10 years later, after two years of military service and four years studying commercial design in Bradford, he became part of the Freedom Press Group of anarchists, alongside Philip Sansom, Colin Ward, Vernon Richards and others.
An individualist anarchist influenced by Stirner, Donald gave many years of service to Freedom, especially after his early retirement from lecturing on typography at the London College of Printing in 1983.
This included years of co-editing the paper, a long stint doing the bookkeeping, subscriptions and renewals, and keeping Freedom bookshop open on Saturdays.
Wildcat
Donald's most famous creation, Wildcat, was created for a radical magazine of the same name which ran from 1974–1975. Wildcat was a furious young female anarchist (cat) who clashed with The Free-Range Egghead and other anarchist types.
Wildcat then reappeared in Freedom in 1980 – and in every issue till the paper shut down in 2014, an astonishing 34-year run.
Donald was a cartoonist for Peace News from October 1962 onwards, having a cartoon in almost every issue for his first 10 years with PN, and also in his last 10 years with us.
As well as cartoons, Donald contributed articles to PN, including a long piece in May 1965 defending anarchist behaviour on the Aldermaston marches up to that point (there had been a lot of criticism, including in PN).
Donald was asked by the Comics Journal in 2002 about his attitude to violence. He said: 'I'm not a pacifist, I'm a person who prefers peace.'
They asked whether this attitude got him into trouble with PN. He replied: 'Oh, no. The slogan of Peace News then and now, is "for nonviolent revolution".'
Donald also contributed to Private Eye, Spectator, and the Daily Mirror as well as The Skeptic (which has his other famous creation, the Sprite, a spirit who is in love with Donald – who doesn't believe in spirits).
Among Donald's many publications are Wildcat Anarchist Comics and What is Anarchism? (both PM Press, 2016).