Issue

December 2019 - January 2020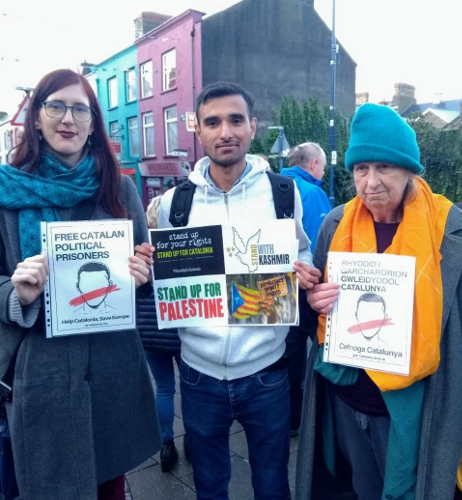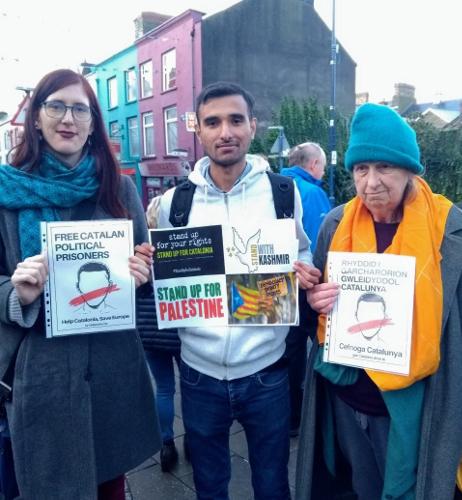 Aberystwyth stands with Catalonia. Photo: Marian Delyth
On 17 October, Aberystwyth locals gathered in solidarity with the Catalan people after the Spanish supreme court sentenced nine political prisoners to nine to 13 years in prison for their involvement in the 2017 Catalan independence referendum.
The United Nations Working Group on Arbitrary Detention had called on Spain to release the prisoners, conduct an independent investigation to identify public officials responsible for the pre-trial detentions and hold them accountable.
Instead, the Spanish authorities and supreme court ignored the UN report and imposed sentences designed to crush the Catalan independence movement – to break the individuals before the court and to instil fear in the millions of people who support them.
Bethan Siân said: 'This week we have seen the people of Catalonia occupying Barcelona airport, as well as holding meetings across the country. Here is an example of communities actively asserting their own independence in everything they do. Such a move of civil disobedience deserves our support, for them and for us all.'
Among other speakers, Aberystwyth mayor Mari Turner said: 'We stand tonight with the people of Catalonia, her politicians and voters, while also pledging to protect our own country's democracy to the best of our ability'.
Elfed Wyn Jones added his experience of being in Catalonia at the 2017 referendum: 'The atmosphere was so exciting with people on the street hugging us when they saw our red dragon flags. It's vital that we show clear support to the people of Catalonia, and that we condemn the blatant attack on the country's democracy'.