Issue

June - July 2022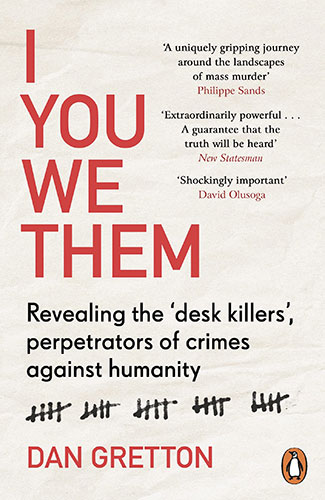 How do ordinary people – seemingly decent and peaceful at the individual level – become key parts of a system that perpetrates violence and destruction?
This is a question that our society is perhaps only beginning to widely acknowledge. For example, details have only recently surfaced of the thousands of ordinary people from the British Isles who invested in slave ownership in the British Caribbean.
I You We Them operates in the same territory, exploring the role and psychology of the individual, removed by distance – or insulated by their institutional role – from a sense of responsibility for the destruction of human life elsewhere.
The landscape around this central theme is vast and the inspirations are many. They include writers such as Hannah Arendt and Gitta Sereny, who both analysed the psychology of Nazi Germany in painstaking detail, as well as the author's own activism around the oil and gas industry in the 1990s.
The author explores not only the individual within a system or corporate structure who becomes a 'killer from a desk', but also the actions of the organisation itself.
The Third Reich's crimes against humanity provide examples of shocking collusion by companies and financial institutions. Gretton pursues those that still exist today and also finds echoes across the decades, such as the Chinese company manufacturing execution vans where lethal injections are administered.
The general manager of Shell, the oil company, was an enthusiastic early supporter of the Nazi regime in Germany. Some 60 years later, the company was colluding with the Nigerian military to suppress community resistance to its operations in Ogoniland.
As well as investigating the 'moral gynmastics' involved in such actions, I You We Them uncovers how the corporate approach to the past is one of silence, hiding and destroying evidence or denying facts.
This mirrors the silence of individuals and of societies in the face of war or genocidal atrocity – a theme which Dan Gretton details using both personal and colonial history.
Despite being a huge book reflecting the author's many years of 'journeying and attempting to grapple with this subject' (a second volume is yet to be published), I You We Them is a highly-readable and richly-rewarding book. It brings together memoir and reflection with carefully-researched historical, psychological and wider cultural explorations.
The very personal approach that Gretton takes towards this harrowing material allows us, as readers, to cautiously find our own path, in the company of one who shares our despair.