Issue

June - July 2022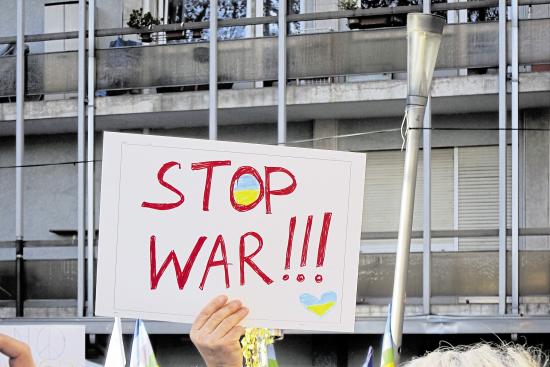 The outlines for a peace deal in Ukraine have been clear for weeks, as US activist and author Noam Chomsky points out in this issue (see pp 11 – 13).
President Volodymyr Zelenskyy of Ukraine made a solid peace proposal at the end of March which could be built upon.
It is not enough simply to appeal for a ceasefire. Western peace movements should be pressing their governments to actively voice their support for peace negotiations.
Ukraine specialist Anatol Lieven wrote on 5 May: 'the Biden administration must move immediately to assure Russia that U.S. strategy is to help defend Ukraine, but not to impose a complete defeat on Russia and use this to weaken or destroy the Russian state.'
Lieven went on: 'The first step should be for Washington to declare publicly that it supports a diplomatic solution to the issues of the status of Crimea and the Donbas, and that, if Russia will cease its offensive in Ukraine and agree to a ceasefire, the United States will respect that ceasefire.'
The British peace movement should press the UK government to make similar moves.
Zelenskyy published his peace proposals on 29 March.
The first element would be a declaration of Ukrainian neutrality, a commitment that Ukraine would not join NATO or any other military alliance.
Ukrainian security would be guaranteed by a international treaty signed by the permanent members of the UN security council, and others.
This security guarantee would be suspended 'temporarily' in 'the temporarily occupied territories of the Donetsk and Luhansk regions and the Autonomous Republic of Crimea'.
This system would be ratified through an all-Ukraine referendum.
The second element in the Ukrainian proposal was that the Crimea issue would be postponed to 'bilateral negotiations' held 'within 15 years'
Thirdly, the Russian-occupied parts of the Donbass region in the east would also be dealt with separately: 'considered within the negotiations between the Presidents of Ukraine and Russia'.
Instead of supporting these peace moves, the US and UK have been promoting military conflict and using Ukraine to weaken Russia, despite the risk of escalation that could end in nuclear war.