Issue

June - July 2022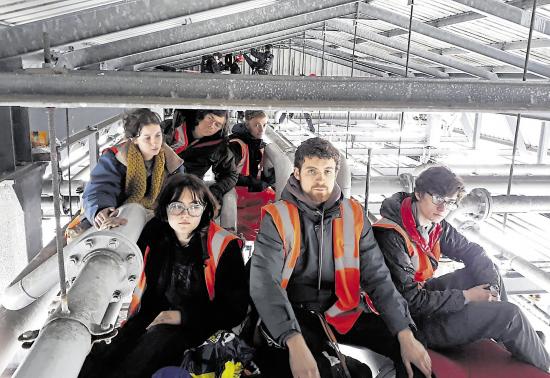 There were a huge number of climate actions in April and May, organised by Extinction Rebellion (XR) and its spin-off, the Just Stop Oil (JSO) coalition.
JSO reported over 965 arrests by 15 April as a result of two weeks of daily blockades of oil terminals and petrol stations all over the country, including in Birmingham, Essex, London and Southampton.
By 4 May, the total had grown to over 1,200 arrests, according to the group.
JSO demands that the government calls a halt to any further fossil fuel projects in and around the UK.
At least 11 JSO activists have been imprisoned for breaking injunctions against protest at Kingsbury oil depot in Warwickshire.
Many JSO prisoners have been practising nonviolent non-co-operation with the prison authorities, including refusing to leave their cells to be taken to court.
The maximum sentence for breaking an injunction is unlimited fines and two years in prison.
Rebellion
Meanwhile, XR's overlapping Rebellion in Central London (9 – 17 April) was not as well-attended as some previous ones, and it resulted in a lot fewer arrests – but it still involved thousands of people occupying the roads.
XR said that its actions were becoming more 'innovative' – though the giant banner-hangs on Tower Bridge and Marble Arch looked very Greenpeace.
XR also emphasised its Project 3.5 door-knocking programme (inspired, they say, by Bernie Sanders) which is about local groups inviting their neighbours to a 'Look Up, Step Up' XR talk.
There were a lot fewer arrests – maybe less than 200? (XR doesn't seem to be reporting arrest numbers consistently). It seems the police have changed their strategy towards XR.
On 9 April, there were no arrests when several thousand demonstrators with multi-coloured flags bearing the group's 'extinction' symbol sat down in the road in Oxford Circus for 20 minutes, calling for an end to investment in fossil fuels.
The police reported 38 arrests on 10 April as a result of doctors blockading Vauxhall and Lambeth Bridges.
There were 10 arrests on 13 April, when 25 scientists glued themselves onto, and 10 spraypainted, the glass façade of the department for business, energy and industrial strategy.
One arrested scientist, Emma Smart, an ecologist, went on hunger strike after being refused bail.
There were 70 arrests on 16 April when hundreds blocked the junction at Marble Arch.
Meanwhile, a Christian Climate Action blockader was acquitted on appeal on 24 March. Reverend Sue Parfitt (80) had been fined £250 with £500 court costs for highway obstruction. She'd sat in a camp chair for four hours outside a ministry of defence's procurement site, Abbey Wood, near Bristol, in December 2020. Her conviction, just days after the Ziegler decision, was overturned on Ziegler grounds by a judge in Bristol crown court.