Issue

June - July 2022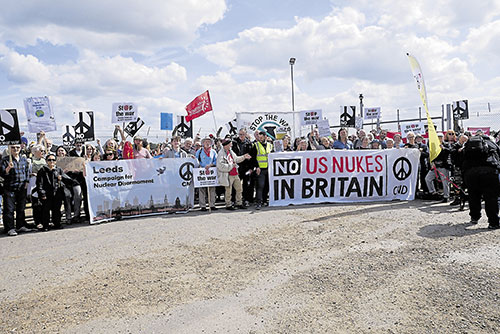 'No US nukes in Britain!' That was the message of over 150 activists from around the UK (and from the Continent) who joined the CND demonstration at USAF Lakenheath on 21 May.
The news that the US air force might be returning nuclear weapons to its base in north Suffolk broke on 11 April with a tweet from US researcher Hans Kristensen: 'Looks like RAF Lakenheath air base has quietly been added to the list of nuclear weapons storage sites receiving upgrades in Europe.'
Lakenheath wasn't specifically mentioned in the Pentagon 'military construction program' budget for fiscal year 2023, but Kristensen identified it as the most likely site for an upgrade.
That's because 110 US B61 'gravity' nuclear bombs were stored there until 2008. They were carried by F-15 jets based at Lakenheath. (Gravity bombs just fall – they're not missiles.)
The government has avoided answering questions on the topic put by MPs Caroline Lucas (Green) and Kirsten Oswald (Scottish National Party).
There is a possibility that the bombs may have already been installed at Lakenheath.