Issue

June - July 2022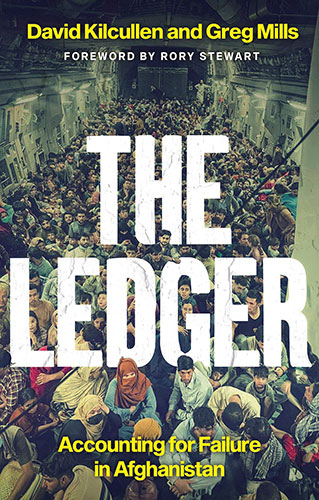 Presumably hastily put together after the disorderly US-UK-NATO withdrawal from Afghanistan in August 2021, The Ledger is written by two advisors to the Western militaries and Afghan government: David Kilcullen and Greg Mills. Their roles gave the pair an enviable level of access to top level US-UK government and military sources, whom they cite regularly, but is also likely a key reason why their analysis is so restricted, generally limited to what Noam Chomsky calls the 'fight it better' school of criticism.
Kilcullen and Mills provide a number of reasons for the West's failure including: an absence of strategy and political leadership, shifting war aims, a refusal to stay in Afghanistan for the long-term, insufficient troop numbers, underestimating the Taliban, and failing to address a key source of support for the insurgency – Pakistan.
As the endorsements from the UK chief of defence staff and former US chairman of the US joint chiefs of staff make clear, this isn't a book written for peace activists. Nevertheless, it does contain some useful information.
For example, in December 2001, after the US-led invasion and defeat of the Taliban, anti-Taliban Afghan leader Hamid Karzai pushed for peace negotiations with the Taliban. This move was blocked by US defence secretary Donald Rumsfeld.
This was a huge missed opportunity – the war's 'original sin', according to United Nations special envoy to Afghanistan, Lakhdar Brahimi – opening the door to 20 years of death and destruction.
How Rumsfeld overriding Karzai's wishes fits with the authors' claim elsewhere that a central objective of the US-led occupation was 'promoting democracy' is never explained.
Elsewhere, Killcullen and Mills mention in passing that the reduction of Western advisors and contractors in the last two years of the Obama administration 'was driven by American domestic politics.'
This is a significant and hopeful acknowledgement for peace activists, and fits with evidence public opinion had a constraining influence on British forces in Afghanistan (see PN 2644 – 2645).
Frustratingly, the authors ignore a lot of important arguments and information. The high levels of violence meted out by US-UK forces is barely mentioned, while the idea that a police operation should have been conducted to capture the perpetrators of 9/11 is never considered, nor the argument that it was the military occupation itself that was the root problem.
Those interested in reading more critical analyses of the war in Afghanistan should seek out Fred Ledwidge's Investment in Blood: The True Cost of Britain's Afghan War (Yale University Press, 2013) or Bleeding Afghanistan: Washington, Warlords, and the Propaganda of Silence by Sonali Kolhatkar and James Ingalls (Seven Stories, 2006).