Issue

October 2020 - November 2020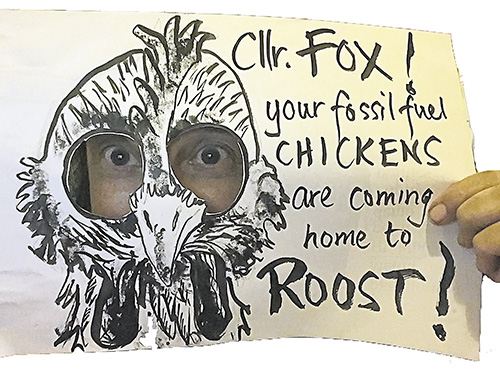 On 9 March, with some regret, Divest East Sussex postponed the sex strike.
Three days later, in a blog post entitled '#flattenthecurve', we noted that cancelling the sex strike appeared to be the right decision 'from a public health perspective'. (It was still 11 days before the UK went into lockdown.)
However, we also said that our campaign to divest East Sussex county council's pension fund from fossil fuels would not be silent.
Five months later, we had a good go at setting a world record for an online protest.
From santas to sex
Back in March, we pointed to a 350.org briefing listing a wide variety of different forms of action that could be used to make our voices heard without coming together physically.
These included window posters, virtual protests, and social media barrages.
We said we would be experimenting with some of these forms of action in the coming weeks....
It did seem a daunting prospect, though.
After four-and-a-half years of dogged campaigning – and at a point where we were beginning to build some momentum – how could we continue to escalate our campaign when so many of the standard forms of action were no longer possible?
It was a good eight weeks before there was any chance – or headspace – to try.
On 11 May, we held our first organising meeting since the start of lockdown. (It was on Zoom, of course.)
"Their raucous energy could barely be contained."
According to the notes from that meeting, we all agreed that 'whatever comes next, let's keep the creativity at the heart of our strategy!'
During the previous six months, we'd dressed as santas and elves and sung divestment-themed carols to East Sussex county councillors.
We'd gatecrashed a pension committee meeting dressed as suffragettes ('Deeds not words!').
We'd sent scores of Valentine's Day-themed cards to the chair of the pension committee ('Stop in the name of love!').
And we'd held a Thunberg-in (with Greta masks) outside county hall.
And then there was the sex strike.
Just say no
We'd been planning to issue a public call 'for all people of goodwill to refrain from sex with members of the [county] council until the latter agree to stop funding climate change'.
As the launch event, we were going to stage a performance of extracts from the ancient Greek play, Lysistrata, in which the women of ancient Greece use a sex strike to end the war between Athens and Sparta.
We had already received a fair bit of media coverage, including a radio interview and a piece in the Brighton Argus.
By early June, it was clear that the economic collapse triggered by the coronavirus pandemic had almost certainly brought forward the moment of 'peak demand' for fossil fuels.
Peak demand is the point in time when consumption of fossil fuels (gas, coal, oil) starts permanently falling. This could lead to big (and permanent) losses for investors like the East Sussex pension fund.
But what could we do to publicise and leverage this fact?
Question time
Over the previous three years, we'd already asked well over 100 questions in county council meetings, so our first step was to see if we could get a large number of people to submit questions to a single meeting.
In the end, over 240 people submitted written questions to the July meeting, leading the council's chair to bar follow-up questions in the meeting itself. This break with the usual procedure generated media coverage in the Sussex Express.
Even as those 240 people were sending in their questions, we had already decided on a follow-up action.
Our efforts have been focused on the pension committee of East Sussex county council (ESCC). The committee, a five-person body, has ultimate decision-making powers over the ESCC pension fund.
We've been pressuring the pension committee to divest from fossil fuels. That would mean the pension fund would sell the shares it owns in oil, gas and coal companies – and pledge not to make any more fossil fuel investments.
Setting a world record
Councillor Gerard Fox is not only the chair of the pension committee, he's also been the main opponent of divestment.
So why not an online chicken-themed action? 'Councillor Fox: Don't let ESCC's fossil fuel chickens come home to roost!'
Folk could print out masks from our website and we could bill the action as a world record attempt ('Most people to attend a Zoom protest wearing a chicken mask').
We would bring people together, have some fun, maybe generate some media coverage – and use the protest as a springboard to our next action.
Not everyone was immediately convinced. ('Who will see us?' was a commonly asked question.) And it turned out to be more work than perhaps we'd anticipated.
The masks and a publicity poster were rapidly pulled together and we had to purchase a paid-for Zoom account (to enable folk to register in advance).
But a lot of work also had to go into thinking about how we would use the 40-minute slot that we'd agreed.
In the end, a decision was made to riff on the traditional story of Henny Penny (who believes that the sky is falling and – at least in some versions – is taken in by a wily fox).
But then a script had to be written, people found to play the roles (the number of which rapidly expanded) and a rehearsal arranged.
And of course we also had to mobilise for the action itself without any face-to-face contact. Email, texting and personal word of mouth seemed to be most efficient.The technical side of stuff was also a significant challenge and we were still straightening out the details on the morning of the action.
Clucktastic
Our last-minute rehearsal was chaotic to say the least and stretched to two hours. 'Would the predominantly English participants be too shy to join in?', we worried.
In the event, over 60 people took part, including folk from the Shropshire divestment campaign and a Hove resident who was temporarily stranded in Delft, Holland
Their raucous energy could barely be contained – with the 'actors' often struggling to be heard over a cacophony of clucking.
Many had created their own masks (or puppets) and the wonderful Hedge Mustard performed a hilarious song ('Hope in the henhouse') that he had written specially for the occasion.
A good time was had by all and we received significant local press coverage before and afterwards.
Indeed, two days after the event, we were the lead story on the websites of not only the Battle Observer, the Bexhill Observer and the Hastings Observer, but also the Eastbourne Herald and the Sussex Express.
In our debrief, we agreed that the basic structure could be made to work for a wide variety of actions, that we'd learned a good deal, and that there was plenty to learn. (How can one ensure that such events are accessible? When and why do masks disappear into Zoom backgrounds?)
Let a hundred chickens cluck!