Issue

October 2020 - November 2020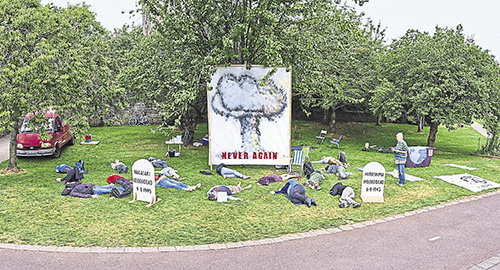 Despite COVID-19 restrictions, there were several in-person Hiroshima and Nagasaki commemorations in the UK to mark the 75th anniversary of the atomic bombings in Japan.
In Bristol, CND, Trident Ploughshares, and XR Peace organised an ambitious four-day Peace Gathering, which began and ended with die-ins, in Castle Park in central Bristol (above).
As well as the 'longest banner drop in Bristol' (91m along Finzel's Reach Bridge over the harbour), there was a leafleting-and-banner action outside the MOD defence centre at Filton Abbey Wood, plus socially-distanced workshops, talks and films in the park.
There were also daily video-linkups with other groups fasting and vigilling around the UK and internationally.
Flowers and cranes
Perth in Scotland and two groups in south-east England had two-part events on Hiroshima Day, 6 August.
In Perth, there had been a plan to have a public gathering at the Peace Pole in a city park, after a two-hour socially-distanced High Street vigil.
Because of lockdown restrictions, the gathering had to be cancelled, but a handful of people gathered there for silent reflection and a few readings.
In Kingston, six members of Kingston Peace Council/CND took up socially-distanced positions in the main shopping street, each holding a placard.
Later, on the banks of the Thames, Kingston mayor, councillor Margaret Thompson, joined a commemoration in her first official outdoors event since the beginning of the lockdown.
After a two-minutes silence, white flowers were thrown onto the river.
In Brighton, at lunchtime, the Women's International League for Peace and Freedom (WILPF) tied a wreath made of paper peace cranes to the Peace Statue on the seafront in Hove.
In the evening, WILPF tied peace cranes to a tree it had planted in a local park on the 40th anniversary of the Hiroshima attack.
The mayor, councillor Alan Robins, and other Labour party councillors who attended, told WILPF afterwards that they intend to put a motion to Brighton and Hove council supporting the Treaty on the Prohibition of Nuclear Weapons.