Issue

October 2020 - November 2020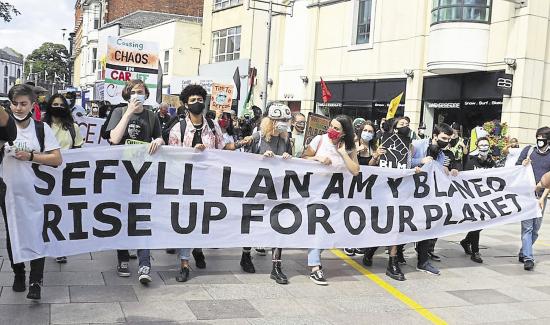 A few weeks ago, Extinction Rebellion Wales contacted me with the idea of a 'super-march'. What if diverse campaigns all marched together under one all-encompassing slogan, 'Justice Now'?
On 5 September, over 1,000 people took to the streets of Cardiff, ringing out chants like: 'This is what democracy looks like!', 'Black Lives Matter!' and 'Sea levels are rising so are we!'
Sponsored by 25 Welsh campaign groups including Extinction Rebellion, Black Lives Matter, Youth Climate Strike, People's Assembly, ACORN renters' union, CND Cymru and Stop the War, the 'Justice Now' march was a real tour de force!
Highlights included over 100 cyclists turning up from Save the Northern Meadows, a campaign in defence of one of Cardiff's green spaces, and when we surrounded the home office with a sit-down protest. We blocked traffic while a minute's silence was held for refugees drowned in the sea, and then heard a powerful speech from a young member of the local Sudanese community.
Fighters against racist miscarriages of justice, NHS nurses demanding a 15 percent pay rise, environmentalists, LGBT activists, and campaigners for Palestine solidarity and housing rights were all speaking together on the same platform.
Outside the senedd, we demanded that the Welsh government and local councils raise their horizons higher than being simply the administrators of the status quo.
In terms of banners, placard and chants it was clear that climate change and racism were key mobilising issues for many younger demonstrators, and it was exciting seeing the Black Lives Matter movement and Extinction Rebellion/Youth Climate Strike spark off each other.
The 'Justice Now' march was an historic and memorable day with so many issues represented on a single protest.
Attended by all ages, the march was youthful. In many ways, I was reminded of the mood of the anti-globalisation movement 20 years ago when diverse single-issue campaigns similarly converged.
There was a real excitement around different campaigns coming together. A general feeling was our different movements should continue to support each other as we have a common enemy: 'The System'!