Issue

October 2020 - November 2020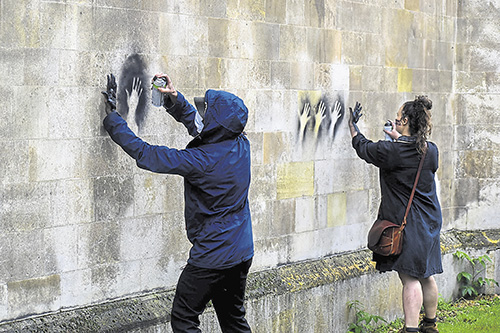 Autonomy and decentralisation are baked into Extinction Rebellion's organisational structure. In Cambridge we've taken initiative to target our city's centres of power, independently of any directives from XR UK. It probably isn't hard to guess our first priority.
The university of Cambridge and its colleges are many things, but high on that list are wealthy and prestigious.
In other words, they're in a perfect position to deal a significant blow to the fossil fuel industry's social legitimacy and (eventually) its share prices by publicly ditching their investments in oil, coal and gas firms.
Yet, despite 'calling on the world's brightest and best to join [it] in creating a zero-carbon future' in its 'ambitious' Cambridge Zero initiative, the university has continually delayed the divestment report that is supposed to inform a decision by the university council on the matter.
As for the colleges, only two out of 31 them (Clare Hall and Queens) have committed to full divestment.
Shifting perceptions
Following years of campaigning across the town-gown divide by other groups such as the Cambridge Zero Carbon Society, our youth-led 'Rebel for Justice' campaign first called for divestment in January this year.
We demanded that the university 'cut [its] ties with the fossil fuel industry'. These include its investments in the industry itself, academic research to enable oil drilling in the Arctic, and the university's participation in greenwashing (making people believe that particular companies are doing more to protect the environment than they really are). An example of greenwashing is the university's 'BP Institute', an interdisciplinary research body set up in 2000.
"Academic research enables oil drilling in the Arctic."
These demands have not yet been met, but our digging-up of Trinity college's lawn – and the resulting media sensation – seems to have created a shift in perception.
Once dismissed as a ragtag group of un-cooperative crusties, it's clear that the university and the colleges no longer feel comfortable ignoring us.
The next stage
The stage was therefore set for our latest push, which began in early July.
We issued a follow-up demand for a commitment to divestment and ethical reinvestment by the end of 2020.
This would apply not just to fossil fuels but to all ecocidal (planet-killing) industries, with special mentions for the arms trade, intensive animal farming, and companies involved in biodiversity destruction.
The deadline was the end of the July, and failure meant facing nonviolent direct action.
Our launch involved a video (starring local activists, scientists, union organisers, university of Cambridge staff and alumni, and 350.org founder Bill McKibben) and letters delivered to the all of the non-divested colleges.
Action proper began in August.
Protests are organised independently by affinity groups and targets are chosen based on a ranking of priorities that gets updated whenever we uncover new information – usually through our correspondence with college finance and green officers.
This has allowed for a diversity of tactics, from chalk spray-stencilling to a 'Darwin and the Dinosaur' mystery play.
Continuity has developed through recurring visual and theatrical elements including Divestment Dinosaurs, Oily Spectres and Mother Earth, creating a recognisable spectacle.
"Digging up Trinity college's lawn seems to have shifted perceptions."
So far we have made the national press three times. A game of croquet between the university and Mother Earth on Senate House lawn was on page three of the Telegraph.
The 'Naked Truth' – activists baring-all on King's college lawn to symbolise our vulnerability in the face of the climate crisis – provoked outrage in the Daily Mail. Most recently, our 'Oily Handed March' ended with nine arrests (a record for us in Cambridge) after activists stencilled 'oily' hand-shapes on university and college buildings. (The 'oil' was made using chalk spray and molasses.) Arrestees included alumni and Mother Earth herself.
Having an impact
With public gatherings limited under the Coronavirus Act and many of our members self-isolating, it's a challenging time for a direct action campaign,
XR Cambridge has written and publicised COVID safety rules for protests, and we've also successfully mobilised 'remote rebels' for behind-the-scenes work including research, social media and press liaison.
Tougher to overcome is Cambridgeshire constabulary's increasingly aggressive policing, empowered by the Coronavirus Act and the government's intensifying 'law and order' rhetoric.
The consistent lack of transparency about financial information poses a more fundamental challenge.
However, once protests began so did the emails from colleges admitting that they held no direct investments in fossil fuels.
These retrospective disclosures have allowed us to openly recategorise seven colleges from non-divested to partially-divested. This more than doubled the total (from five to twelve) and is meaningful progress in social delegitimisation. Direct action works!