Issue

August 2020 - September 2020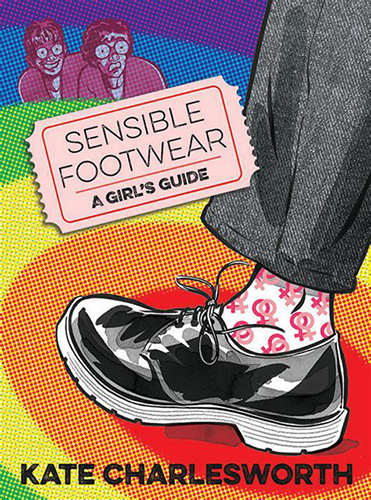 This chunky 320-page graphic memoir is an absolute treasure trove of LGBTQ+ history.
Kate Charlesworth was born in 1950 and her autobiography reminds us how much has changed over the last seven decades. If anyone is looking for an introduction to queer history, this is the perfect place to start.
The artwork throughout the book is totally engaging. Charlesworth varies her drawing style to suit each 'chapter' of her life story and the different graphic techniques convey both the eras she describes and their associated moods.
A lifetime of illustration has made her a mistress of graphic techniques and the variety of styles range from camp 1950s for a Calamity Jane double-page spread through Beano and Bunty styles for her early memories.
Expressive full-page illustrations commemorate the dark times of AIDS and the 1999 nail bombing in Old Compton Street in London while glorious use of colour and page layout is used to recount her conversations with friends.
Whether she is depicting her own awkward days as a baby dyke or chronicling historic events like the Stonewall Riot (I learned that the police raid happened in the early hours of the day after Judy Garland's funeral), Charlesworth paints the perfect picture and her personal/political narrative is absorbing.
I loved the use of badges and printed ephemera to help chronicle her decades of campaigning.
Alan Turing, Quentin Crisp, Dusty Springfield, Germaine Greer, Billie Jean King, Peter Tatchell, the Lesbian Avengers, Section 28, Freddie Mercury and theatre are all part of the story.
There are also fun and thorough timelines featuring dates such as the 1970 feminist flour-bombing of the Miss World contest, the posthumous publication of EM Forster's Maurice in 1971, the lesbian kiss on Brookside in 1994, and the 2004 Gender Recognition and Civil Partnership Acts.
The 1980 Gay Pride March in London (which ended in a riot) is compared to the 1993 London Pride where two policemen are talking about what a fantastic day out they are going to have – a great 'illustration' of how times have changed.
This is a personal history, and while the author welcomes the 'T' in LGBT, the recent fiery debates about trans rights and the Gender Recognition Act are not documented in detail.
In the very short introduction, Charlesworth acknowledges the LGBTQI+ community as an 'astonishing riot of intersectionality' and wishes for any omissions in her story to be the starting point for telling more stories.
I look forward to reading a trans-sister volume to this excellent lesbian autobiography.