Issue

August 2020 - September 2020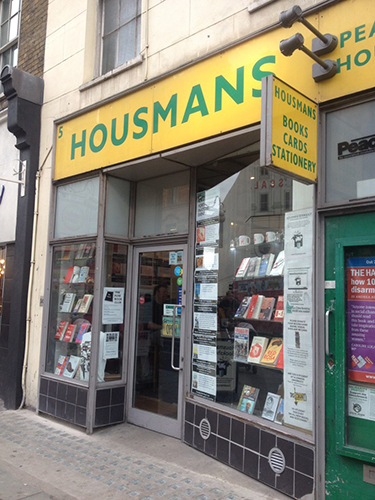 Activists, radical authors, publishers, zine-makers, book-lovers and all friends of Housmans Bookshop: we are still here, and as long as we are able we will continue to do everything we can to support you.
We're conscious that, whatever happens in the next few months, the way that people shop and buy books, especially in central London, might not go back to 'normal' for a very long time. So we are working to re-imagine the ways the shop can operate, find new ways to engage with people – online book clubs, guest blog posts, and perhaps in the future online events.
But we know that online services can never be quite the same as visiting the shop.
In mid-March, as the COVID-19 crisis escalated, we were sure that we would be instructed to close any day. But when the government dithered over the decision we were forced to make it for ourselves.
So Housmans Bookshop was already closed by time Boris Johnson announced a nationwide lockdown and ordered the closure of non-essential shops on 23 March.
Some of the reasons why bookshops are important are the same reasons we felt that they should close: they are places where people spend hours, where they pick up and slowly flick through dozens of books, where they meet friends and talk.
Many of our visitors are older or in vulnerable groups, and our location in King's Cross means that most people reach us via public transport.
So we closed.
It was an anxious and difficult decision – at that point there was no word on government support schemes and we had no idea what closure might mean for the future of Housmans. But we no longer felt confident that the bookshop was a safe place for our staff, our volunteers or our customers.
At first, we decided that we would still sell books by mail order, but, within a few weeks, as the virus reached its peak, we decided to suspend this as well.
It no longer seemed appropriate to be selling books as hospitals were overwhelmed and frontline workers died. Even mail order bookselling relies on dozens of workers – in particular, delivery, distribution and warehouse workers.
We had no way of knowing if their conditions were safe. Under such extreme circumstances it was hard to argue that selling books is truly an essential service. So, by April, Housmans had suspended all its activities.
Closing a refuge
One of the harder things about closing the bookshop was the feeling that we were abandoning our community. Many of those suddenly stuck at home were eager to read and order new books – but we couldn't help, and we knew there was a chance they'd end up going you-know-where instead.
It was painful not to be able to support authors and small presses who were desperately concerned about their income. And it was upsetting to think that some of our regular visitors – who come to spend a few quiet hours in the shop most days, including those who are homeless – could no longer count on Housmans as a place of refuge.
We were lucky in that we quickly benefited from a combination of government grants, the furlough scheme and the fact that 5 Caledonian Road – home to Housmans, Peace News, and many other campaigning organisations – is owned by the Peace News Trustees, rather than a profit-making private landlord.
This last fact, in particular, puts us in a much more secure position than many other small bookshops, and we try to always keep that in mind – especially when we receive expressions of concern and support.
There are several small shops and cafés close to us in King's Cross which are not so lucky – several of them have not yet reopened, and may not ever. From chatting to neighbours it seems that in these cases, none of the government support was enough to make up for unsympathetic landlords and punishing rents.
Hunger for BLM books
We waited until June, when deaths and infections were much lower, to resume selling books by mail order.
This coincided with the international outrage and grief that arose following George Floyd's murder, and bookshops everywhere, ourselves included, were inundated with demand for books on antiracism and Black history.
We received hundreds of orders for books like Me and White Supremacy by Layla Saad, How to be an Antiracist by Ibram X Kendi, Why I'm No Longer Talking to White People About Race by Reni Eddo-Lodge and Are Prisons Obsolete? by Angela Davis.
"It was painful not to be able to support authors and small presses who were desperately concerned about their income."
It was moving to see evidence of so many people deciding to educate themselves through literature and choosing to read works by Black authors. And it was a reminder of the role that books (and bookshops) can play in building and sustaining social justice movements.
We have continued to sell books online, building up our online shop and trying to promote books from small presses and radical publishers, relying on social media instead of in-person recommendations.
COVID solidarity
We are now making plans to reopen in mid-August, with limited opening hours initially.
We are moving tables and displays to make the shop more spacious, we will have screens at the till, we will have masks available for anyone who doesn't have one, and we will strongly encourage everyone to use hand sanitiser before they enter.
We know that we're going to have visitors who don't think that COVID-19 is real, who don't want to wear a mask or use hand sanitiser, who consider this an imposition on their freedom, and who don't want to do anything the Tories have told them to do (we sympathise on that one).
A few have already been in contact to let us know their objections to these kinds of measures. But much as we usually appreciate a spirit of dissent, we'd prefer not to have to stand at the door and argue these views, which aren't shared by our staff.
We hope that in a spirit of solidarity and generosity these folks might play by the rules for a little while, if only to make our lives easier and to help other customers, especially those in vulnerable groups, feel safer.
Knowing that we are in a comparatively fortunate position and that others are struggling far more, we have tried to avoid making pleas for support in the last few months. But we will need support.
Four months of closure had an enormous financial impact and it's simply impossible to match our usual sales on mail order alone.
The future is uncertain, and another lockdown is possible.
And as always, our ambition for Housmans – one of the oldest, largest and last remaining radical bookshops in the UK – is not just to survive but to thrive: to pay our staff properly, to invest in shop improvements, to be able to take risks on niche books and unknown authors, to pay zine-makers and creators for their work upfront, to pay speakers for their time, to offer cheap meeting space for activists – none of which is possible when we are struggling to keep the lights on.
So, for anyone who does want to support us, the best way is always just to buy a book from us when you can, either from our website, by phone or email, or in person.