Issue

August 2020 - September 2020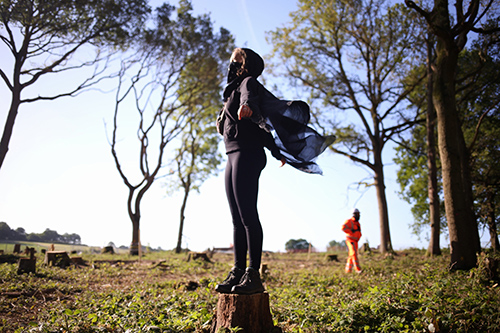 High Speed 2 (HS2) is a carbon-intensive, environmentally-destructive high-speed rail line planned to run from London to Birmingham (then, eventually, to Manchester and Leeds in 'Phase 2'). Communities all along the Phase 1 line have been protesting against HS2, and environmental campaigners have set up 'protection camps' with local support. Emily Johns of PN caught up with experienced activist Indra Donfrancesco in mid-July:
HS2 is very simple, because it's all wrong. It's a shuttlebus, it's not actually a train. This is a non-stop service from London to [Birmingham city and] Birmingham airport.
The whole project will end up costing up to £200bn. [Luton North MP Kelvin Hopkins put this figure forward in 2017, on the basis of 'leaks from inside the HS2 bureaucracy'. The latest official cost estimate is said to be £106bn. – ed] It is going through 108 ancient woodlands. That is destruction during nesting season, bat-roosting season and badger-cubbing season.
There has not been a project so destructive since the First World War – or such an expensive railway on the planet.
It's not only cutting through 108 ancient woodlands but other woodlands as well that are not termed ancient but they are still just as valuable, some of them.
They are wildlife corridors, they are habitats, they are moorlands, they are wetlands, they are hibernation spots.
There are great crested newts, there are three species – more probably – of endangered bats, including the Bechstein bat, one of the most endangered mammals in the country, in these woodlands.
This is our Amazon.
It's like a total destruction with man, patriarchy, capitalism on one side, where they've created a desert – and nature, and just the energy and life on the other. Just this beating of life, and this boom and bloom and blossom and heartbeats.
Public interest
The wonderful Mr Chris Packham got together with all the top wildlife NGOs, Woodland Trust, Wildlife Trust, RSPCA, RSPB, and compiled a proper, independent Environmental Impact Assessment, which HS2 had not done.
He went to get an injunction to stop work so that a proper independent environmental assessment could be done.
It's gone to appeal because the judge said it was of 'considerable public interest'.
It got media interest because we were doing stupid things in trees to get people's attention. We were causing a scene, we were getting the press there.
Sock-wrestling in trees is going to get attention. People being beaten up and having their noses and ribs broken, unfortunately, in the trees – by bailiffs – was getting attention.
Four months
I got to Crackley Woods camp just before lockdown. I've been there nearly four months. I'd literally got there to do some training sessions with some frontline community activists who have been fighting this for over 10 years. They are amazing, these people.
Earlier, there was not really any crossing of the boundaries and some of them are still a little bit wary of crossing the boundaries because they want to be seen as peaceful. And we keep telling them: 'This is peaceful. What we're doing is peaceful.'
When you block a gate, when you do a walk – a slow walk – it is done peacefully.
Even when I storm a compound, I storm a compound peacefully. You know, I may rip open those gates – those are just gates. I am not being offensive or rude to any of the security, to any of the staff, anyone. I smile and wave as I rip through the gates.
So I got there just before lockdown to deliver some training – direct action training, facilitation training – and we brought some tree climbers with us.
Lockdown suddenly happened: 'OK, well, I suppose that we're staying for a bit.' As we all landed there at the same time, we then considered ourselves to be isolating together as a community.
Anyone that came to camp, there was an understanding that they self-isolated – at least for two weeks – and then kind of slowly integrated.
We were taking evidence of the security and the national eviction team and the workers not socially distancing.
All this violence was happening to us from the national eviction team and there were no eyes. The only journalist that did turn up was told by a policeman that he was not doing essential work so he had to leave.
Safe camps
We arrived just before the bluebells. It is so stunning. I am so lucky. I get to wake up every morning to bird songs. I get to track badgers at night. I get to listen to bats. I get to traipse through ancient woodland and my night vision – I can see everything, I can hear everything.
It's alive and you can feel it's alive. And the trees – ancient trees, ancient woodlands – there is something so special.
I sleep in the middle of the woods with no one around me and I've never felt so safe.
The camps are fabulous. A couple more camps have sprung up, but also a couple of camps have been evicted. I think there's about six camps in all and I'd say there's possibly 20 people in each camp.
Starting from where we are, Crackley Woods, Crackley is the best camp – and I would say that because that's where I am.
And then you don't have another camp until Steeple Claydon, which is in Northamptonshire. There was one in Cubbington but that got evicted. And then you've got Wendover, which is another ancient woodland, and then you've got Jones Hill which is a woodland with Bechstein bats.
Then you go further down and you've got Great Missenden – I'm not sure if it's there anymore – and then you've got Denham, which is more in Uxbridge – so that camp's being going for a good couple of years now, and they've been frontline defending because work's already started there.
That is a country park, it's beautiful, it's got the most amazing lake and 22 percent of London's water comes from those aquifers, which they are now drilling into because they want to stick a bridge over it
At Denham, they are cutting down trees as we speak – ancient trees, old trees.
There's a very old alder that was defended yesterday.
Three people ran up it when they saw the eviction team there, because it wasn't actually supposed to be cut down – ran up it, no harnesses or anything, clinging to the trunks and they were up there all day in the peeing rain.
The HS2 climbing team left in the evening because they just couldn't work out how to get them down.
All the camps are frontline.
Crackley, there's probably been about 25 tree evictions, most of the trees are down that were being looked at. The action was constant, either locking the gates, slow walking, going into the compounds – because even if you're standing in the compounds they have to stop all the machinery.
And when we got arrested, they would bail us off-site so we couldn't return. I had all my bail conditions dropped, which was nice.
So I've been arrested, I don't know, maybe about five times? But only in court for three. What we're doing in Crackley now is it's become a skillshare camp, because it's quite a safe camp where we are.
We've moved onto a piece of land right next to the fence and we're training people – sorry, we're skillsharing people. It's turned into one long Earth First! Summer Gathering, which is quite terrifying.
A lot of the protection camps are 'safe camps' – they're on the border of the HS2 land so they're safe from eviction.
Crackley in Warwickshire, come and visit – just come for the day, come for an hour, do a drive-past. Same with Jones Hill, same with Wendover. Poor's Piece in Steeple Claydon, that's a safe camp.
Come say 'Hi'.
I'm helping out the wildlife photographers at the moment and the wildlife documentary people and getting them in the woods – into enemy territory, if you like. I am having so much fun. I am being everything I can be.
It's amazing when you have something that is demanding that you be everything that you can be, and that's including peaceful. When all you want to do is rage… but, no, you've got to jump over the fence, not just rattle it.