Issue

August 2020 - September 2020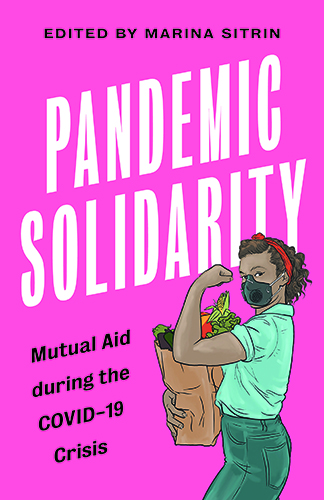 While much of the media has focused on selfish individualism (empty supermarket shelves and con artists) in the time of COVID-19, a new book from Pluto Press, Pandemic Solidarity, has collected stories of community and self-sacrifice from 18 countries and regions around the world, including India, Rojava and Iraq. Here are a few extracts, chosen by PN.
Brazil
Pandemic Solidarity carries several stories from Brazil, including that of the Abya Yala Feminist School in southern São Paulo, started by Helena Silvestre, a favela woman. Favelas are working-class neighbourhoods which began as squatter shantytowns but have won the legal right to their land and are now mostly made of brick buildings. 'Abya Yala' is a term used by many indigenous people to refer to the Americas (from an indigenous perspective). Helena writes in Pandemic Solidarity:
'The Abya Yala Feminist School is a permanent challenge: to build, from favela women, a feminism that expresses and embraces what we are, with our trajectory of black diasporas, indigenous genocides, expulsion from the land and reconstruction of community in violated territories such as favelas and peripheries.
'As we are rooted in territories that never existed free from hunger, our first thought when the pandemic hit was: women will not be able to stay at home while their families are in need. We immediately started an organizing process between us, shared tasks, mapped women in extreme situations, mapped volunteer women with a car and mapped food donors.
'From those first deliveries, the mental health alert rang: many grateful women received food baskets and told us, sometimes crying, the story of how they were on the edge. So we started to organize psychological assistance at a distance with two psychologists who are part of Abya Yala, building protocols and procedures.
'The psychological assistance reinforced another debate, which is the situation of domestic violence with women locked up with their aggressors. Hence, this was another front established with some ideas that we are trying to produce as minimal support networks for women who are in suffering like this.
'Our adaptation has been difficult. But what inspires me is to hear from women who are totally vulnerable that they want to help in some way. As the number of assisted women is growing a lot, several say they didn't know groups such as ours existed, and say that they want to be part of it, sewing masks with donated fabrics that we take, and helping as they can.
'I think that with this pandemic, we realize that privileges are always a dynamic relationship and if we, as favela inhabitants, have no privilege in relation to women of the white and college [university] educated middle classes, in having a home and guaranteed work we are in a privileged situation in relation to other sisters who need our attention.'
Turkey
Within days of the first confirmed COVID-19 case in Turkey, activists from different groups and unions formed the Kadıköy Solidarity Network in Kadıköy, a large district on the eastern side of Istanbul. Volunteers flocked to the network from the beginning. As well as making face masks and face shields (donated to hospitals), the network has also delivered essential supplies (including groceries and medicine) to older and vulnerable neighbours. A member of the Kadıköy Solidarity Network was interviewed for Pandemic Solidarity in April:
'As we were the first among the solidarity networks which got organized pretty fast right after the outbreak, we became widely known. We have been receiving calls from many districts and provinces.... We received a call from Çankırı State Hospital [a province 468km from Istanbul]. Doctors requested face shields, so we sent shields.
'Our friends who make shields wrote notes on the boxes: 'We love you so much! We can't be without you!' If I were a doctor, and received these masks and shields and these notes from a person who very far away, whom I didn't know, when the state was not even able to provide me with surgical masks....
'Solidarity makes people feel incredible emotions nowadays. My phone number is one of the contact numbers on posters. We hear this sentence many, many times: 'You reminded us that we are human beings!' I heard this both from those who have resources to share and those who are in need.
'This is so real! Solidarity makes us human beings indeed!
'People calling me, especially the ones 80–90 years old, tell me that they would like to see my face when these days are over, and meet over a coffee. Yes, I reply: 'We will definitely meet one day.'
'The system, the state that you pay taxes to, wants to get rid of you, leave you to death.... However, there are others who care about you, who stick by you in solidarity without any expectation. Then you start feeling like a society... You realize that you are stronger together and you must act collectively!'
South Africa
Pandemic Solidarity has a chapter covering COVID-19 solidarity work in three different countries in southern Africa. In this extract, Boaventura Monjane explains a common value system and describes an example of solidarity in South Africa involving the C-19 People's Coalition. The coalition includes 300 groups: trade unions, NGOs, faith-based groups and community organisations from every province in South Africa.
The practice of Ubuntu... in various communities in southern Africa is expressed by individuals and groups providing social and community service to the others. Ubuntu is a Nguni Bantu term meaning 'humanity'. It is often translated as 'I am because we are' or 'humanity towards others':
'The solidarity actions underway in southern Africa aim precisely to reinforce this idea, even in situations where the state criminalizes it.
'In the Western Cape province of South Africa, a collective of women were doing community kitchen work, distributing hot food to hungry people in their community. Police intervened and beat them up for doing an activity that was allegedly prohibited under the lockdown.
'The collective approached the C19 People's Coalition. The coalition approached a social justice lawyer who helped to organize a meeting with the prevention police commissioner. As a result of that meeting, not only was this women's collective allowed to resume the community kitchen, but it was also regulated that this solidarity activity is allowed throughout the Western Cape province.'
Portugal
After the pandemic started, Grupo Educar, a collective of anti-racist educators in Lisboa (Lisbon), formed the DialogAR Network with three other groups including the European Support Network for Brazilian Victims of Domestic Violence. This is from Grupo Educar:
'While searching for what to do in this context – as we already imagined that to quarantine would be impossible for so many and would put all of us at other risks, we believed that it would be important and possible to create a mutual aid and mental health support network to offer what we called 'solidary listening', and to offer legal advice by counting on the help of specialized professionals, by focusing on the needs of immigrants and workers, and by fundraising to redistribute money and pantry supplies.
'We used social media to distribute a virtual public forum that allowed us to pair those willing to offer free counselling and legal advice with people in need of these services.
'The confinement promoted by the quarantine made us think about family relationships through reports of domestic violence, involving couples, elderly people and children. So we organized a weekly program to entertain and reassure everyone though social media.
'We offered dance classes for children, storytelling focusing on Afro-Brazilian and Afrocentric content, guided meditation, Italian language course, virtual dinner parties, know your rights info sessions, and thematic discussion groups.
'This autonomous, collective, unpaid and non-profit initiative helped us to take care of ourselves and of those around us. Recognizing our limitations and privileges, we found an alternative form of movement. We believe that solidarity strengthens ties.'