Issue

October - November 2018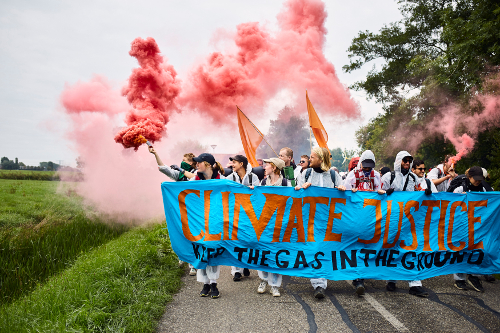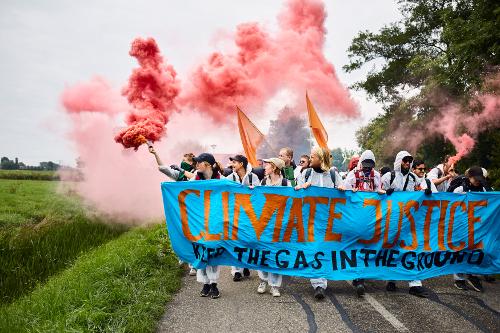 Climate activists march to the biggest gas field in Europe, in Groningen in the Netherlands, 28 August. Photo: Code Rood
From 18–24 August, Time to Cycle organised a bike ride from London to the Code Rood week-long climate action camp in Groningen in the Netherlands. Over 700 people from Code Rood held a 48-hour sit-down blockade of Europe's largest gas field in Farmsum, near Groningen, starting on 28 August.
Our cycling trip, that was to become a beautiful shared experience with an ever-growing inspiring and determined group, started with six of us meeting just across the road from the centre of British power, the Westminster parliament. The group grew to 40 along the way.
This cycle trip was a realisation of team work, energies, commitment, caring and free spirits coming together to make magic happen. We ate fresh bread baked for us by our Quaker friends, we slept below the stars on Friends of the Earth turf, we lounged on the ferry deck surrounding a circus family juggling their way across land and sea with three children, a trailer and a tandem powered by two fierce, free, and spaghetti-fuelled parents.
We took over a Rotterdam street and house with our bikes, banners, and banter. We crowded around laaarge plates of tasty vegan food, our first international dinner cooked for us with love by Kokerellen, a vegan food van that caters for all sorts of grassroots events and has been keeping cyclists across Europe well fed for more than 25 years.
As we went north, we cycled across dykes, along canals, through forests and onto old city squares. Streets and paths were perfectly managed and laid out to respect cyclists, a must! We need to replicate this elsewhere as a way to bring in a wave of health through cycling.
Our bike trip culminated in Groningen with a climate action camp and a strong will to disobey governments, police and the fossil fuel overlords sucking the earth dry of its blood and nutrients, leaving chaos and earthquakes in their wake.
The atmosphere of calm, peace, concern and concerted action at the camp served to show how much can be achieved when you believe in something and come together with others to try and achieve that which you dream.