Issue

October - November 2018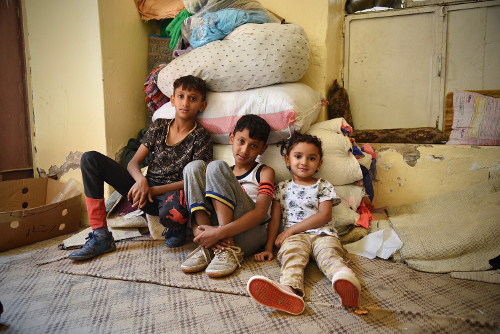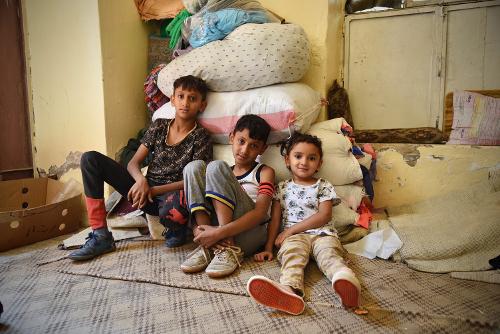 This summer, Abdullah, 13, Abdulaziz, 12, and Maria, 5, fled from Saudi airstrikes on their neighbourhood in the Yemeni port city of Hodeidah. Their mother and father, who didn't wish to publish their own names, are destitute and searching for work in Sana'a, 90 miles from the coast. Photo: Becky Bakr Abdulla/Norwegian Relief Council.
'This war risks killing an entire generation of Yemen's children', said Carolyn Miles, the president of Save the Children, on 18 September. As she spoke, Saudi-led forces continued their renewed assault on the Yemeni port of Hodeidah, the gateway for 70 percent of the food eaten in Yemen, and for vital humanitarian aid.
International NGOs warned in April that a Saudi-led offensive against Hodeidah could lead to 'near certain famine, risking the lives of millions'. (PN 2616 – 2617)
In June, Andrew Mitchell, Conservative MP, wrote that Britain was 'complicit in this attack' on Hodeidah, with its 'nakedly pro-Saudi approach to the conflict'. For example, Mitchell pointed out, Britain 'stays silent on the nightly air attacks by the Saudi air force that kill innocent civilians in Yemen'.
Britain also stays silent on the need for an immediate ceasefire.
Arming Saudi
Muhsin Siddiquey, Oxfam's country director in Yemen, said on 6 September: 'The UK government, which continues to arm the Saudis, appears to have no red lines when it comes to Yemen.'
At the end of August, a UN human rights panel reported that at least 6,475 civilians had been killed since the Saudi intervention began in March 2015 – and that the majority of casualties were caused by airstrikes by the Saudi-led coalition.
Britain has supplied warplanes, cluster bombs and missiles that have been used in Yemen. Last year, British arms exports to Saudi Arabia rose by 66 percent to £1.13bn, according to Campaign Against Arms Trade.
That's not what the British public wants. Nearly two-thirds of people in Britain (63 percent), and a majority of Conservative voters, oppose arms sales to the Saudis. That was the finding of a YouGov poll for Save the Children and Avaaz at the end of August.
Also, less than one in six people (14 percent) think that supporting the Saudi-led coalition reflects British values and interests.
Tipping point
Save the Children estimate that 5.2 million children are at risk of famine in Yemen.
Carolyn Miles explained that children in Yemen 'face multiple threats, from bombs to hunger to preventable diseases like cholera.' There were a million cases of cholera in Yemen last year, the largest cholera epidemic in history.
The humanitarian catastrophe in Yemen is approaching a tipping point 'beyond which it will be impossible to prevent massive loss of life as a result of widespread famine across the country', according to the head of the UN humanitarian agency, OCHA.
On 21 September, Mark Lowcock told the UN security council that the situation had 'deteriorated in an alarming way in recent weeks', with the appearance of 'pockets of famine-like conditions, including cases where people are eating leaves.'
The two major recent developments which threaten to overwhelm the aid operation, in Lowcock's words, were a 'dramatic economic collapse' that has reduced the value of Yemen's currency by about a third, and intensified fighting around Hodeidah.
That fighting has intensified because of the assault on Hodeidah by the Saudi-led coalition which was renewed on 8 September, after peace talks failed.
Lowcock reported that the Red Sea mills in Hodeidah, containing 45,000 tons of grain imported by the World Food Programme, 'enough to feed three and a half million people for a month', had been cut off because of fighting.
In June, Houthi forces offered to hand over Hodeidah to the UN, but the Saudi-led coalition moved the goalposts and demanded a complete Houthi withdrawal from the Red Sea coast. The International Crisis Group has advised the Houthis to go through with the handover and undermine the coalition's case for attacking Hodeidah.