Issue

August - September 2018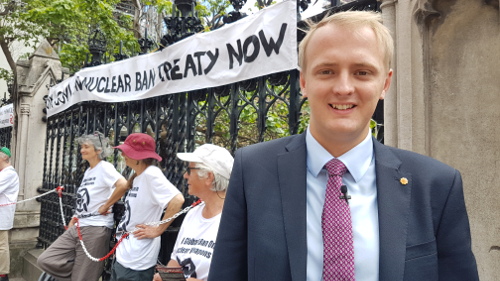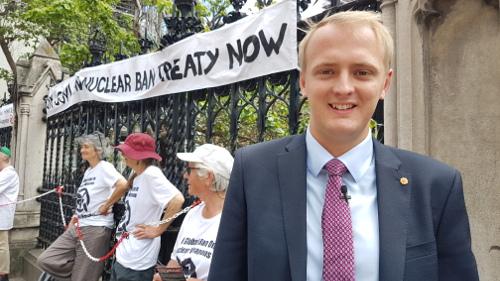 Ben Lake, MP for Ceredigion supports locked-on protesters in Westminster. Photo: Zoe Broughton
On 20 June, peace campaigners from Wales locked on to the railings outside the Westminster parliament in London together with about 50 Scottish and English activists as part of a Trident Ploughshares action.
Supported by nearly 50 more activists, they highlighted the UK's refusal to engage with the Treaty on the Prohibition of Nuclear Weapons adopted by the UN in 2017. Several MPs, among them Welsh MPs Ben Lake and Anthony Edwards, met with the protesters and made statements of support.
Angie Zelter from Knighton in Wales said: 'Since the end of the Cold War the world has largely forgotten about nuclear weapons. But an exchange of just 100 of the thousands of nuclear weapons deployed around the world right now could cause a nuclear famine and the deaths of two billion people. For too long the British government has claimed that it would support multilateral moves for a nuclear-free world. Now is the ideal opportunity to join the 59 countries that have signed the treaty and are in the process of ratifying it'.