Issue

August - September 2018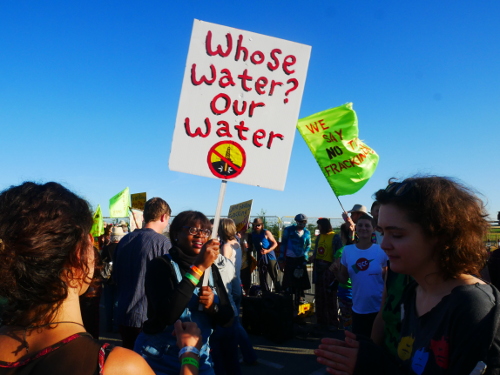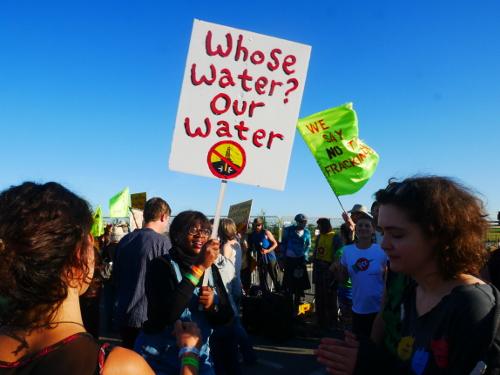 Protesters blockade Preston New Road fracking site, 28 June. Photo: Reclaim the Power
At the end of June, hundreds of people joined a mass action camp blockading energy company Cuadrilla's Preston New Road (PNR) fracking site in Lancashire, three years after Lancashire county council rejected the company's application to drill for shale gas.
Anti-fracking network Reclaim the Power organised 'Block Around the Clock' as a 48-hour non-stop non-arrestable festival of resistance with live music. It was the final action in three months of 'United Resistance'.
The blockade, run in six-hour shifts, was accompanied by a skill-share camp. Sessions included 'intro to direct action', 'power dynamics in groups', 'climate science 101' and 'decolonising environmentalism'.
The action came as the government decided whether to approve Cuadrilla's request for permission to start fracking at PNR.
Because of local protests, Cuadrilla is a year behind schedule at PNR.
Fracking democracy
On 13 June, five members of the Bristol-based group 'Grandparents for a Safe Earth' chained themselves to the front entrance of the department for business, environment and industrial strategy in London. They called on the government refuse permission for fracking in Lancashire.
A member of the group told the Bristol Post they regretted having to take 'peaceful direct action' but felt they had 'been left no alternative as democratic avenues of consultation are being speedily closed.'
The government wants to change planning laws to take fracking decisions out of the hands of local authorities, and to allow drilling to go ahead without planning applications having to be made. Local democracy is producing the wrong decisions.