Issue

August - September 2018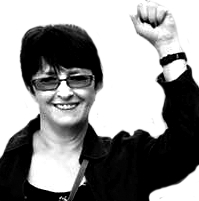 It's hard to believe that a man who openly bragged about sexually assaulting women cares much about women's rights (it's even harder to believe that such a man should be elected president but there we are). So it comes as a bit of a surprise to hear of the Trump administration praising a growing women's movement in Iran.
Women in Tehran have been protesting against the compulsory wearing of the hijab by publicly removing their headscarves and standing in a public place. Now dubbed #TheGirlsofRevolutionStreet, these young women have risked arrest and even imprisonment. There have been other similar protests: women dancing in the street, singing or appearing at football stadiums.
People have responded to the protests on social media and blogs by calling for full freedom of dress as a basic civil right. Young women have been leaving flowers at the site of each protest; female parliamentarians have demanded new policies promoting equal access to higher education and jobs, and targeting gender discrimination in public spaces.
Meanwhile in the US, Trump's people have deployed these protests as part of its campaign to isolate the Islamic Republic and promote regime change in Tehran. US secretary of state (at least at the time of writing this) Mike Pompeo said: 'The brutal men of the regime seem to be particularly terrified by Iranian women who are demanding their rights.' He went on: 'As human beings with inherent dignity and inalienable rights, the women of Iran deserve the same freedoms that the men of Iran possess.'
This policy will continue with the reinstatement of sanctions against Iran, which critics argue will make the lives of ordinary Iranians harder while enriching reactionary elements of the system that have tended to profit from sanctions, both financially and politically.
Back in the US, Pompeo's advocacy for women seems hypocritical given his opposition to the right to an abortion, even in cases of rape. As a member of the US house of representatives, he voted repeatedly to prevent aid money from going to NGOs that discuss abortions. He co-sponsored 'personhood' legislation aimed at banning most forms of abortion and even contraception.
In the Middle East, Pompeo has embraced countries like Saudi Arabia, which surely anyone can see is one of the harshest gender-discrimination regimes in the world, including a 'guardianship' law that obliges women to be legal wards of men from birth until death.
In April, Pompeo called the recent reforms by Saudi Arabia's crown prince, Mohammed bin Salman, which leave the guardianship system in place, 'inspiring', and said that they would 'empower women'. So women can now drive in Saudi Arabia but they're still considered basically children who need an adult man to parent them, even if that man is in fact the male child of the woman.
As part of the US attempt at regime change in Iran, US officials have met up with Iranian exiles based in the US. The administration now cultivates an array of groups opposed to the Islamic Republic that often identify themselves with #TheGirlsofRevolutionStreet imagery – a graphic of women protesting by dangling a hijab on a stick.
Feminists in Iran are concerned that tentative gains that women have made recently may be jeopardised by the Iranian government's perception that the Trump administration is exploiting natural tensions, specifically around gender.
Many feel that the more the US government gets involved in attempting regime change in Iran, the more likely it is that the Iranian political elite will bring down the iron fist.
When a peaceful protest against the hijab is seen as an attempt at regime change, the protests will not be seen as solely about women's issues.