Issue

August - September 2018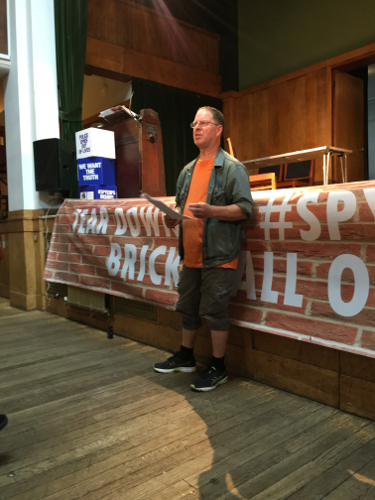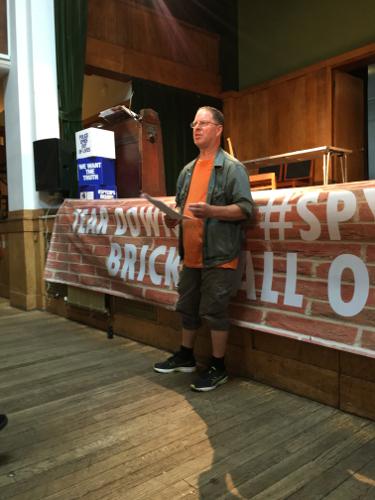 Dave Morris, one of the organisers of the '1968-2018: A Celebration of 50 years of Resistance, despite 50 years of police opposition, spying and repression' conference at Conway Hall.photo: PN
The issue of undercover policing gained more attention in June because of a brave stand by Lush, the vegetarian/vegan cosmetics company. Then the Campaign Opposing Police Surveillance (COPS) and COPS Scotland held conferences in London and Glasgow on 7 July and 23 June, marking 50 years since the formation of the Special Demonstration Squad, the undercover political police.
The Glasgow gathering pressed for a public inquiry into undercover political policing in Scotland. The Mitting public inquiry in London does not cover Scotland or northern Ireland, or other countries.
Climate activist Tilly Giffford told the conference how the police tried to turn her into a spy in 2009. After PN went to press, on 19 July, she brought a judicial review in Edinburgh on the UK and Scottish governments' decisions not to hold a public inquiry into undercover police in Scotland.
At the London event, held in Conway Hall, organisers again called for the Mitting inquiry to release the cover names of undercover police officers, the names of the groups they spied on, and the personal files of victims.
'Core participants' targeted by undercover police walked out of the inquiry in March (PN 2616 – 2617). They are demanding that the inquiry head, sir John Mitting, is replaced by a panel who can properly investigate institutional sexism and racism.
Lush bashed
The meetings came after Lush ran a #spycops campaign online and in over 100 shop windows. Working with the activist group Police Spies Out Of Lives, Lush created a poster with the words 'Paid to Lie #spycops' alongside a picture of a man dressed in plain clothes and as a police officer.
In shop windows, the poster was surrounded by fake police tape saying 'Police have crossed the line'.
Online there was also a 90-second campaign film about how undercover police officers abused their position by having long-term, sexual relationships with people they were spying on.
The Lush campaign was due to run from 31 May to 18 June, but, after heavy criticism that Lush was being 'anti-police', the posters were pulled on 8 June out of concern for staff safety. Lush made it clear that this was 'not an anti-state/anti-police campaign', but focused on a 'small and secretive subset of undercover policing'.
The company added: 'We are aware that the police forces of the UK are doing an increasingly difficult and dangerous job whilst having their funding slashed. We fully support them in having proper police numbers, correctly funded to fight crime, violence and to be there to serve the public at our times of need.'