Issue

August - September 2018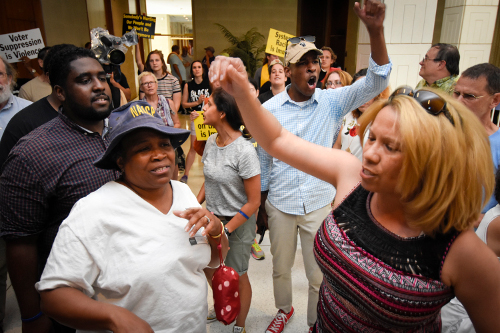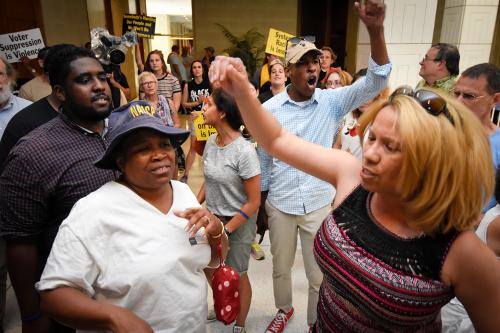 Led by Ana Ilarraza Blackburn (right), Poor People's Campaign protesters
Over 2,500 arrests were made this summer during a massive wave of nonviolent civil disobedience across the United States in a new 'Poor People's Campaign', 50 years after the original campaign led by civil rights leader Martin Luther King Jr.
The original Poor People's Campaign ended with 3,000 activists camping for six weeks in May–June 1968 on the National Mall in the centre of Washington DC.
In May–June 2018, the new Poor People's Campaign ran six-weeks of civil disobedience in 39 states that began with 1,000 campaigners arrested on 14 May, and ended with a mass rally in Washington DC on 23 June.
Reverends William Barber and Liz Theoharis, the African-American and white co-chairs of the Poor People's Campaign, wrote in April: 'When thousands of people from at least 25 states across the country and Washington D.C. engage in a season of nonviolent moral fusion direct action, we will begin to break through the noise of racism, poverty, militarism, ecological devastation, and Christian nationalism to demonstrate that another America is possible.'
In 1968, Martin Luther King opposed the three evils of racism, poverty and militarism. The new campaign has added two more evils: 'ecological devastation' and 'our distorted moral narrative'.
The Poor People's Campaign wants to switch national attention from issues of personal morality (prayer in school, abortion, and gun rights) to public morality: 'health care, voting rights, housing, living wage jobs, education, just immigration, and equal protection under the law are the real moral values we must hold up.'
The campaign wants a focus on 'how our society treats the poor, those on the margins, the least of these, LGBTQ folks, workers, immigrants, the disabled and the sick'.
'Moral fusion' direct action brings people together and respects their differences while uniting on core moral values.
The six weeks of action this summer were just the launch phase for a long campaign. The next phase involves voter registration (140 million poor or low-income Americans are not on the rolls) and a struggle against racist voter suppression laws.
Years of prep
The Poor People's Campaign was developed over three years of outreach to communities in more than 30 states, gathering testimonies from hundreds of poor people.
The campaign has built on a network of more than 1,000 community and religious leaders (across 30 states) drawn together over many years by the New York-based Kairos Centre for Religions, Rights, and Social Justice.
One key moment was a strategy gathering in April 2017, at the historic Highlander Centre, with more than 40 grassroots, community and religious leaders and cultural artists.
The campaign draws inspiration from the 'Moral Mondays' movement in North Carolina in 2013, also led by reverend William Barber.
Over 18 weeks, those protests landed more than 1,000 people in jail for civil disobedience against the ultra-right local government. The movement (based on six years of organising) transformed the politics of the state.