Issue

February - March 2018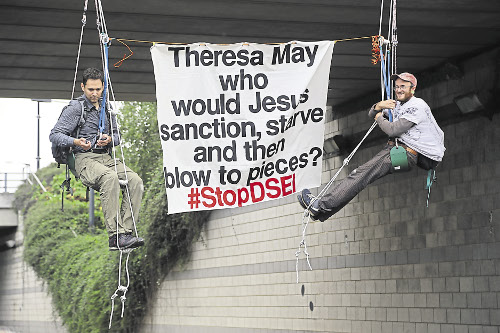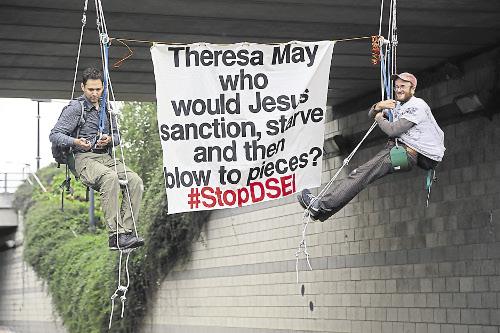 Quaker abseilers, Louis Dorton and Nicholas Cooper, blocking the road to the DSEI arms fair set-up, 5 September 2017. Photo: Diana More/CAAT
In January and early February, there were acquittals for 12 of the 102 people arrested during the set-up of the Defence and Security Equipment International (DSEI) arms fair last September (PN 2610–2611).
Most of the 102 were charged with obstruction of the highway, some with aggravated trespass, and a few were released without charge pending enquiries. A couple of these were later charged.
At the initial plea hearings in September 2017, some campaigners pleaded guilty and were given conditional discharges for six months. Some of these were also told to pay £85 court costs and a £15 or £20 victim surcharge; some just the surcharge. Others just had the conditional discharge – which will carry no penalty unless they're convicted of a new offence committed within six months.
The majority of those charged pleaded not guilty and were given court dates at Stratford magistrates' court. Some of those who pleaded not guilty, including myself, subsequently had their charges dropped. On the whole, these were people who lay across the road but didn't 'lock-on' – with their arms connected in reinforced tubes that take police a long time to cut through.
Stalagmites, stalactites
On 7 February, at Stratford magistrates' court, district judge Angus Hamilton acquitted four Christian anti-arms trade campaigners of highway obstruction, even though they had been locked-on to each other, in pairs. Chris Cole, Henrietta Cullinan, Jo Frew and Nora Ziegler were all arrested on the 'No Faith in War' day of action during the run-up to the arms fair.
The four defendants had argued that it was a reasonable use of the highway to block a road being used by vehicles carrying weapons of destruction into the arms fair, to bring attention to the evils of the arms trade.
From reports, the judge's judgement in the case seems to have argued that the right to demonstrate includes the right to cause a certain amount of disruption in order to draw attention to one's cause and that the crown prosecution service (CPS) had failed to show beyond reasonable doubt that the actions of the defendants were unreasonable under the circumstances.
Not surprisingly, judge Hamilton said he would welcome clarity from a higher court regarding these types of cases, seemingly encouraging the prosecution to appeal the verdict if they thought that he had misinterpreted the law, or that the law was unclear.
In April 2016, judge Hamilton acquitted eight campaigners who had taken action at DSEI 2015 (PN 2594–2595). His verdict was overturned by the high court on appeal (PN 2608–2609).
On 8 February, also at Stratford, district judge Cameron acquitted four 'Quaker Abseilers' who had also been arrested during 'No Faith in War'. Nicholas Cooper, Sam Donaldson, Louis Dorton and Tom Franklin had suspended themselves from a bridge over a road to the arms fair, obstructing traffic. This time, the magistrate stopped the trial after the prosecution had given its evidence. Judge Cameron ruled that there was no case to answer as the CPS had failed to prove beyond reasonable doubt that the actions of the abseilers were illegal.
Crime-fighters and tramps
The first DSEI 2017 trial was in November, when Chris Maunder was found not guilty of assaulting a police officer after the CPS declined to show police body-cam evidence (PN 2612–2613). Chris had pleaded guilty to obstruction of the highway, and possession of cannabis and a three-cm bladed knife, for which he was fined £485 including costs.
Between 10–12 January, 11 people were tried for obstructing the highway during the 'No to Nuclear' day of action during DSEI set-up week. Ten were given a six-months' conditional discharge, £180 court costs and £15 or £20 as a victim surcharge.
Martin Prady was acquitted: he argued that he had locked-on to a lorry to prevent it being driven into protesters. The judge accepted that this was justified as he was attempting to prevent an immediate crime.
On 24 January, Stephen Ellison, and Neil Goodwin (who dressed as Charlie Chaplin both at the action and at trial) had their obstruction cases dismissed.
A map of the ExCeL exhibition centre was produced showing that the road on which they had been arrested was a private road, and thus not a 'highway' as defined by the relevant act.
The prosecution tried to claim that it was sufficient that it was a road used as a public highway. After the judge rejected this argument, the CPS offered no evidence.
Between 7–9 February, five people were on trial for actions during the 'Freedom of Movement for People not Weapons' day of action.
One was found to have no case to answer and three were found not guilty because the judge did not find the prosecution had proven their actions were unreasonable. A Danish defendant had his case dropped because no Danish interpreter could be found.
Trials are slated to continue till May.