Issue

February - March 2018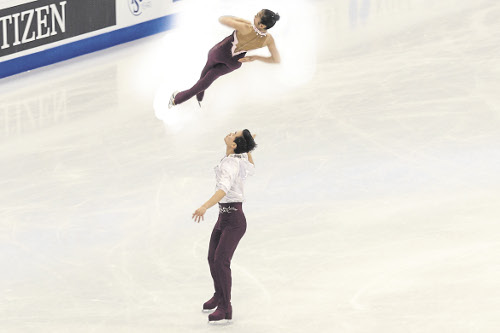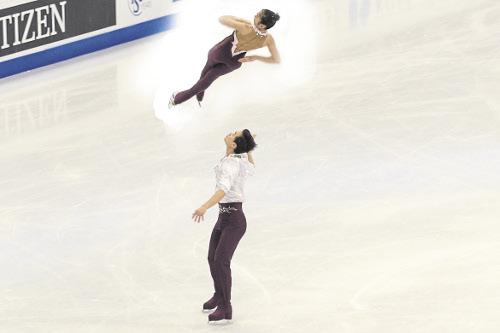 Ice-skaters Ryom Tae-ok and Kim Ju-sik competing in 2017; they are representing North Korea in the 2018 Winter Olympics in South Korea. Photo: Garrett Wollman CC BY 4.0 via Wikimedia Commons
There is one simple first step that can help the world to avoid a war between the United States and North Korea: extend the Olympic peace pause in US military exercises and North Korean nuclear/missile testing.
Possibly the most urgent task of the global peace movement is to pressure US president Donald Trump not to resume military exercises in late April, and to accept a 'double freeze' in US wargames and North Korean testing.
Unfortunately, but predictably, the British mass media is failing to give its readers and viewers an accurate understanding of the situation. By reducing the pressure on the Trump administration to accept the double freeze, the mainstream media is helping to pave the way for war.
Studying the Guardian over a 10-week period (December to early February), as an example, we find only two mentions of the double freeze idea, and only one by name, in almost 100 articles. Yet more evidence to support Noam Chomsky's Propaganda Model of the mainstream media.
Freeze-for-freeze
As we saw two issues ago, the double freeze proposal was first made by North Korea to the United States in secret 'backchannel' talks in mid-2014. This was revealed by one of the intermediaries, Joel S Wit, in the Atlantic in August 2017.
Wit, a former US state department North Korea expert, wrote: 'For the same reason that the U.S. will not sit at the negotiating table while Pyongyang continues missile and nuclear tests, North Korean Foreign Ministry officials will refuse to negotiate while the U.S. and South Korean militaries practice killing their leaders and Americans fly bombers over the Korean peninsula capable of dropping nuclear weapons on the North.'
North Korea went public with its offer in January 2015, with a statement from its state news agency, KCNA: 'The message requests that US suspend joint military exercise temporarily in the areas adjacent to South Korea, and declares that, in that case, we are also willing to take a reciprocal measure by temporarily suspending nuclear tests that concern the US.' (Translation by Son Daekwon, a PhD student at Peking University.)
After this, the double freeze proposal was taken up by China (in March 2017) and then by Russia (in July), though the North Koreans also kept publicly indicating their willingness to trade their nuclear weapons development for an end to US 'hostility' (see PN 2610 – 2611).
On 19 December, the South Korean president, Moon Jae-in, announced his own Olympic double freeze initiative, without using the word 'freeze'.
'If North Korea stops its provocations leading up to the Pyeongchang Olympics', this could help create a 'conducive atmosphere' for US-North Korean dialogue, said Moon, adding: 'It is possible for South Korea and the US to review the possibility of postponing [joint military] exercises.... However, all this depends on how North Korea behaves'.
North Korea did halt its missile and nuclear testing for weeks. On 4 January, the US responded by postponing its joint military exercises with South Korea until after the Olympics. This was followed immediately by North Korea agreeing to high-level talks with South Korea (something it had been avoiding for two years).
The problem is that, 'once the Paralympics is over, military exercises in South Korea with the US will resume, and we'll likely go back to the old cycle of tensions rising and falling,' as Jo Dong-joon, a politics professor at Seoul National University, told the Guardian on 7 February.
The Paralympics end on 18 March and joint military exercises are scheduled to begin in late April.
Censoring the freeze
So the world does not have much time to put pressure on the Trump administration to extend the Olympics truce into a proper double freeze that can lay the basis for peace.
In this situation, how is the British public being served by its media?
The left-liberal Guardian and its sister Sunday newspaper, the Observer, regard themselves as staunch anti-war voices in the mainstream media.
Reviewing the North Korea section of the Guardian website, we can find 71 articles by Guardian reporters and 24 news agency reports about North Korea between 1 December 2017 and 8 February 2018.
In these 95 stories, in these thousands of words, there is precisely one explicit mention of the double freeze proposal.
It comes in an article on 8 December by Julian Borger, 'North Korea ready to open direct talks with US, says Russia's Sergei Lavrov'. Buried in the middle of Borger's piece, in paragraph 11 out of 20, is this sentence:
'For its part, the US has rejected a "freeze-for-freeze" proposal advanced by Russia and China, by which North Korea would suspend nuclear and missile tests while the US would curtail its military exercises.'
There are other references on the Guardian website to some kind of freeze. For example, Mark Seddon, in his alarming 4 December article, 'Have we got just three months to avert a US attack on North Korea?', puts forward the idea of a double freeze without using those words, and without referring to North Korean, Chinese or Russian support for the trade-off.
Seddon makes it sound as if this 'opening ploy' is a totally new idea that he is tentatively proposing – almost three years after North Korea went public with its willingness to trade nuclear tests for a halt to US military exercises over and around the Korean peninsula.
Mary Dejevsky had a thoughtful opinion piece a month later on 3 January, 'Ignore North Korea's bombast. Its actions tell a more hopeful story'. She noted: 'North Korean nuclear tests and US-South Korean manoeuvres seemed to be scaled back or placed on hold.'
However, Dejevsky did not explain the significance of these developments, or refer in any way to the double freeze, or give the context for the North Korean-Chinese-Russian proposals.
In the 10-week period we're studying, there were two other opinion pieces, three Guardian editorials and two Observer editorials that dealt with the Korea crisis.
In these seven articles, there is not a single mention of the double freeze proposal or its history or its importance.
The closest anyone gets to pushing for the US to accept a double freeze with North Korea (and to explaining how much North Korea has invested in the double freeze idea) is this sentence in an Observer editorial:
'Yet rather than pursue diplomatic routes towards gradual, mutual disarmament, HR McMaster, Trump's national security adviser, and other hawks are reportedly advancing the idea of what they call a limited "bloody nose strike".' (emphasis added)
Taking the opinion pieces as a whole, out of nine commentaries and editorials in 10 weeks, only one (by Mark Seddon) refers to the double freeze, and that without any of the necessary historical context.
In 62 news reports by Guardian journalists and 24 articles from wire agencies on the Guardian website, there is also just one brief reference to the double freeze (Julian Borger's, quoted above).
It would not be true, then, to say that the Guardian did not mention the double freeze idea at all in these 10 weeks.
Edward Herman and Noam Chomsky wrote in 1988:
'That the media provide some information about an issue... proves absolutely nothing about the adequacy or accuracy of media coverage. The media do in fact suppress a great deal of information, but even more important is the way they present a particular fact – its placement, tone, and frequency of repetition – and the framework of analysis in which it is placed.'
Guardian self-censorship effectively suppressed the double freeze proposal, and its importance in avoiding war.
It's up to the British peace movement to press not just the media but also civil society and political representatives to support a continuation of the Olympic truce and the public acceptance of a freeze on US military exercises in return for a freeze on North Korean missile and nuclear weapons testing.