Issue

February - March 2018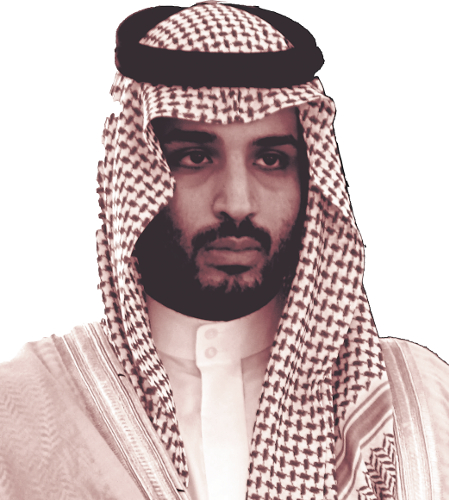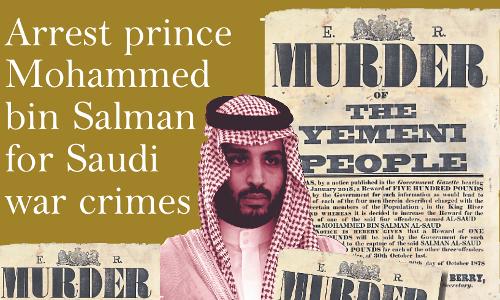 Collage images by Mazen AlDarrab [CC BY-SA 3.0] and courtesy of Graham Berry, Chief Secretary's Office (State Library of New South Wales) both via Wikimedia Commons
Protests are being prepared for a visit to the UK by Saudi crown prince Mohammed bin Salman between 7 – 9 March. Human rights campaigners are pressing for him to be arrested for war crimes.

'The crown prince is a figurehead for a regime with one of the worst human rights records in the world. He has overseen the devastating bombardment in Yemen, which has killed thousands of people and created a terrible humanitarian catastrophe,' said Andrew Smith of Campaign Against Arms Trade (CAAT).

'There is deep concern that an almighty catastrophe of biblical proportions is unfolding in Yemen before our eyes, and a considerable fear that Britain is dangerously complicit in it.' These were the words of Conservative MP Andrew Mitchell, opening an emergency debate in the house of commons on 30 November on the humanitarian crisis in Yemen.

Mitchell focused on the Saudi blockade of Yemen's main ports Hodeidah and Saleef, saying: 'The Saudi pledge to open some ports for urgent humanitarian supplies does not come close to feeding a population reliant on commercial imports for 80% of its food.... Humanitarian cargo alone will not avert a famine in Yemen.'

Yemen is on the brink of famine, with 17 million people, or 60 percent of the population, facing acute food insecurity, according to UN agencies. Over 2,200 people have died of cholera in Yemen since April, according to the World Health Organisation.

UNICEF reported in mid-January that the war has killed or injured more than 5,000 children and left another 400,000 severely malnourished and fighting for their lives. Meritxell Relano, the UNICEF representative in Yemen, said: 'Malnutrition and disease are rampant as basic services collapse', and more than 11 million children – 'nearly every child in Yemen' – is in need of humanitarian assistance.

Andrew Mitchell also condemned Saudi bombing raids: 'While one limb of the British Government is desperately trying to secure entry into the port of Hodeidah for vital food, medicine and fuel, another limb is assisting with the blockade and, indeed, the targeting of attacks.'

Arms sales halted

Britain has licensed more than £4.6bn-worth of arms to Saudi Arabia since the kingdom began bombing Yemen in March 2015, according to CAAT. The British government has admitted that Typhoon and Tornado aircraft, made by BAE Systems, have been used on combat missions in Yemen. Despite enormous political pressure, the British government refuses to end arms sales to the Saudi war machine.

In contrast, Germany and Canada announced in January that they'd stopped granting new licences for arms exports to Saudi Arabia. Germany has halted arms sales to all countries involved in the Yemen war, while Canada is concerned about the use of its armoured vehicles against the Shia minority in Saudi Arabia.

Back in December, Norway, which has no arms sales to Saudi Arabia, stopped all arms sales (new and already approved) to the United Arab Emirates (UAE) which is part of the Saudi-led coalition intervening in Yemen.

The German and Canadian pauses, on the other hand, only covered new arms export permits and did not affect, for example, $11bn-worth of Canadian armoured vehicles that had already been approved. 'If they are not prepared to actually suspend deliveries then [the moratorium] is basically meaningless,' Ken Epps of Project Ploughshares, an agency of the Canadian Council of Churches, told the Globe and Mail.

The Netherlands banned arms exports to Saudi Arabia in March 2016 because of the Saudi war in Yemen and human rights violations in Saudi Arabia itself.

Collar the crown prince

Mohammed bin Salman, crown prince and de facto leader of Saudi Arabia, is widely seen as the force behind Saudi Arabia's shift to a more aggressive foreign policy, including direct military intervention in the Yemeni civil war.

At the end of January, the director of Human Rights for Yemen, Kim Sharif, submitted an application to Westminster magistrates court and the director of public prosecutions to issue a warrant for the prince's arrest for war crimes.