Issue

February - March 2018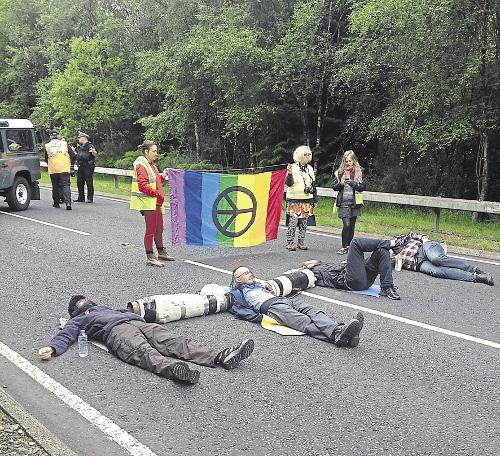 On 24 January, Peter Anderson and Jamie Watson were both found guilty of 'breach of the peace' at Dumbarton justice of the peace court for blockading the Coulport nuclear weapons store during the Trident Ploughshares summer disarmament camp last July.
Two Finns who were arrested and charged with them, Esa Noresvuo and Kaj Raninen, did not turn up. Peter and Jamie accepted prosecution evidence that none of the four who locked-on across an access road to Coulport had moved when asked to do so, and therefore stayed there for two hours until a specialist ministry of defence team cut them out.
Jamie submitted that there was no case to answer because there had been no evidence of severe alarm and fear to anyone, or serious disturbance to the community. He also argued that by his action he was expressing his personal objection to the continuation of nuclear weapons at Coulport.
After an adjournment the court found both defendants guilty and fined Peter £50 and Jamie, who had a previous conviction, £100.