Issue

August - September 2016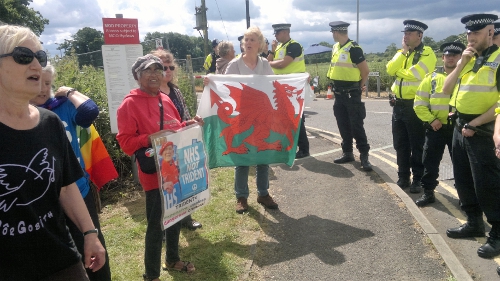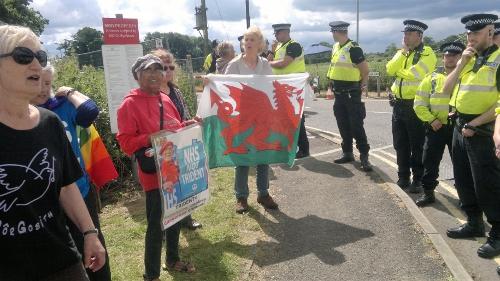 Combined choirs sing out against Trident, AWE Burghfield, 15 June 2016. Photo: kelvin mason
On 15 June, far-flung groups from Aberystwyth, Swansea, Knighton, Cardiff, Newport Gwent, Rhyl and Bangor joined others from all over Wales at the Atomic Weapons Establishment near Burghfield to protest against Trident and its replacement.
The Wales Day was part of a month of direct action organised by Trident Ploughshares, culminating in a 'grand finale' on 30 June with blockaders pinning large red Xs on the fence around AWE Burghfield.
At the main entrance to the base, two choirs, Cardiff's Côr Cochion and Aberystwyth's Côr Gobaith, led a singathon from 7.30am throughout the day. Although a number of attempts were made, a large civilian and ministry of defence (MoD) police presence prevented protesters from blockading the main entrance to the site on the Mearings road.
Protesters did succeed in blocking the so-called 'construction gate' to AWE Burghfield, however. A large submarine was positioned in front of that gate as an ethical, strategic and cost-effective alternative to Trident replacement. It remained there for much of the morning before being taken away by MoD police. When removed, the submarine's place was taken by placards, banners and a symbolic red line of cloth across the gate as well as attendant soft toys.
Pat Richards from Borth explained: 'Taking part in the blockade at Burghfield is, perhaps, a small action when taken by one person. But it is what I can do to take a moral stance against all that AWE stands for. They maintain that their work is to keep us "safe and secure" but the moral case against these weapons is overwhelming. The inflicting of indiscriminate, horrific and unimaginable destruction on people, on creatures and on the planet is indefensible. We must learn better ways to solve and prevent conflict. We need to learn the lessons of Nagasaki and Hiroshima. So, I will stand and sing and dance with others in defiance of their hideous weapons and so-called security systems.'
Still breathless from struggling with police in an attempt to block the Mearings access road to AWE, Brian Jones from Swansea, vice chair of CND Cymru, said: 'Every time British politicians say "we need nuclear weapons for our defence", then politicians from every other country in the world can say exactly the same. That's the way nuclear weapons spread. The only sane way forward is to ban all nuclear weapons worldwide, just as chemical and biological weapons have been banned.'
There were no arrests. Most officers evidently enjoyed the singing, though one constable observed that his own 'party piece' rendition of Eric Bogle's peace anthem 'Green Fields of France' was superior. Some police officers even engaged in debate about the ramifications of Trident, particularly the impact of secrecy and security on democracy and how that served to shape their own duties. MoD police were less amiable, officiously enforcing by-laws against decorating the fence around the site with flowers, ribbons and paper chains.
Trident Ploughshares' founder Angie Zelter, who has been arrested for taking action as a 'global citizen' more than 100 times in several countries, thought the protest had been significant and inspiring: 'The month of disruption and resistance at Burghfield has been amazingly strong, creative and bold. Unexpected groups have come along to show their opposition to preparations for mass murder and to say a very loud and clear "No to Trident replacement". After the initial spontaneous 11 days' and nights' blockading and camping out at the construction gate, further days and nights have "happened" as well as a constant stream of protests at the north end of the Mearings.'
Generally shocked by the result of the EU referendum, opponents of Trident in Wales were concerned about what Brexit might mean for the replacement of Britain's nuclear weapon system. Scotland has a democratic mandate to remain in the EU and so to push for a second referendum on independence from the UK. If that happens, will pressure again fall on Wales to provide an alternative to Faslane as a base for the new generation of nuclear submarines and their terrible cargo? Though he withdrew his offer in 2015, first minister Carwyn Jones once infamously said that, were it forced to leave the Clyde, the Trident missile system would be 'more than welcome' in Milford Haven.
Carwyn Jones is currently urging that official Article 50 notification of the UK's intention to leave the EU should be sent to Brussels as soon as possible. Peace activists in Wales must watch the Brexit process particularly closely.