Issue

April - May 2016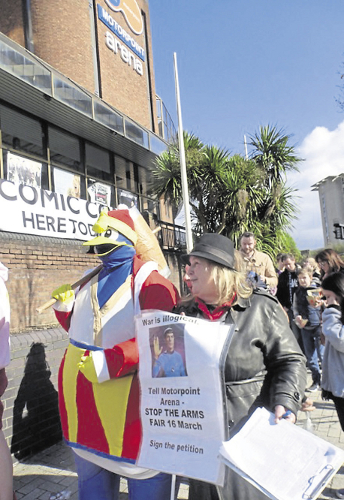 Thousands of sci-fi fans queuing around the block at the Motorpoint Arena, Cardiff, to get into the Film and Comic Convention on 5 March met with a musical protest against the arms trade. The prestigious venue was due to host an arms fair, including exhibitions from BAE Systems, the company that provides logistical support to Israel's illegal occupation of Palestine, sells arms to Turkey's military to bomb the Kurdish people, and profits from death around the world.
Côr Cochion sang songs of peace and held placards of Star Trek's Mr Spock declaring 'War is Illogical'; while Star Wars characters Yoda and Darth Vader advocated 'Stop Wars'. Hundreds of fans, many dressed in colourful costumes from the world of science fantasy and games, were eager to sign the petition calling on Motorpoint to cancel the showcase for the arms traders.
Despite the petition, but not unsurprisingly, the Cardiff Arms Fair (DPRTE) went ahead and on 16 March a different crowd gathered outside the arena to protest at the venue hosting the fair, which was forced to move from Bristol in 2013 after massive public protests.
Now people turned out in force throughout the day to ensure that the DPRTE would feel no more welcome in Wales. Among the crowd were Buddhists, Quakers, musicians, anarchists, Food Not Bombs, Cymdeithas y Cymod, Plaid Cymru, Labour CND, CAAT (Campaign Against Arms Trade) – people from all over Wales, Bristol, and further afield.
Protesters pointedly asked all delegates entering the Arena if they had blood on their hands. BAE is the main supplier of weapons to Saudi Arabia, condemned for its human rights record, particularly
in its bombing of Yemen where hospitals run by Médecins Sans Frontières have been targeted together with busy markets and schools.
Many other companies play a subsidiary role in the arms trade, providing IT and other technical support for the wars that have created millions of refugees in Syria, Palestine, Iraq and Afghanistan.
Sue Lent, deputy leader of Cardiff council, condemned the waste of resources which went into the arms trade instead of desperately-needed public services. David Petersen from Cymdeithas y Cymod saluted Bristol for throwing out the arms fair and warned that Wales should not be seen as an easy option.
Paul Relph from Newport CND commented that 'selling weapons to other countries is not just profiteering, it is killing by proxy. Many of the arms sold then fall into the hands of terrorist groups like ISIS to be used against British troops'.
The protest was an emphatic 'NO' to the arms fair.