Issue

April - May 2016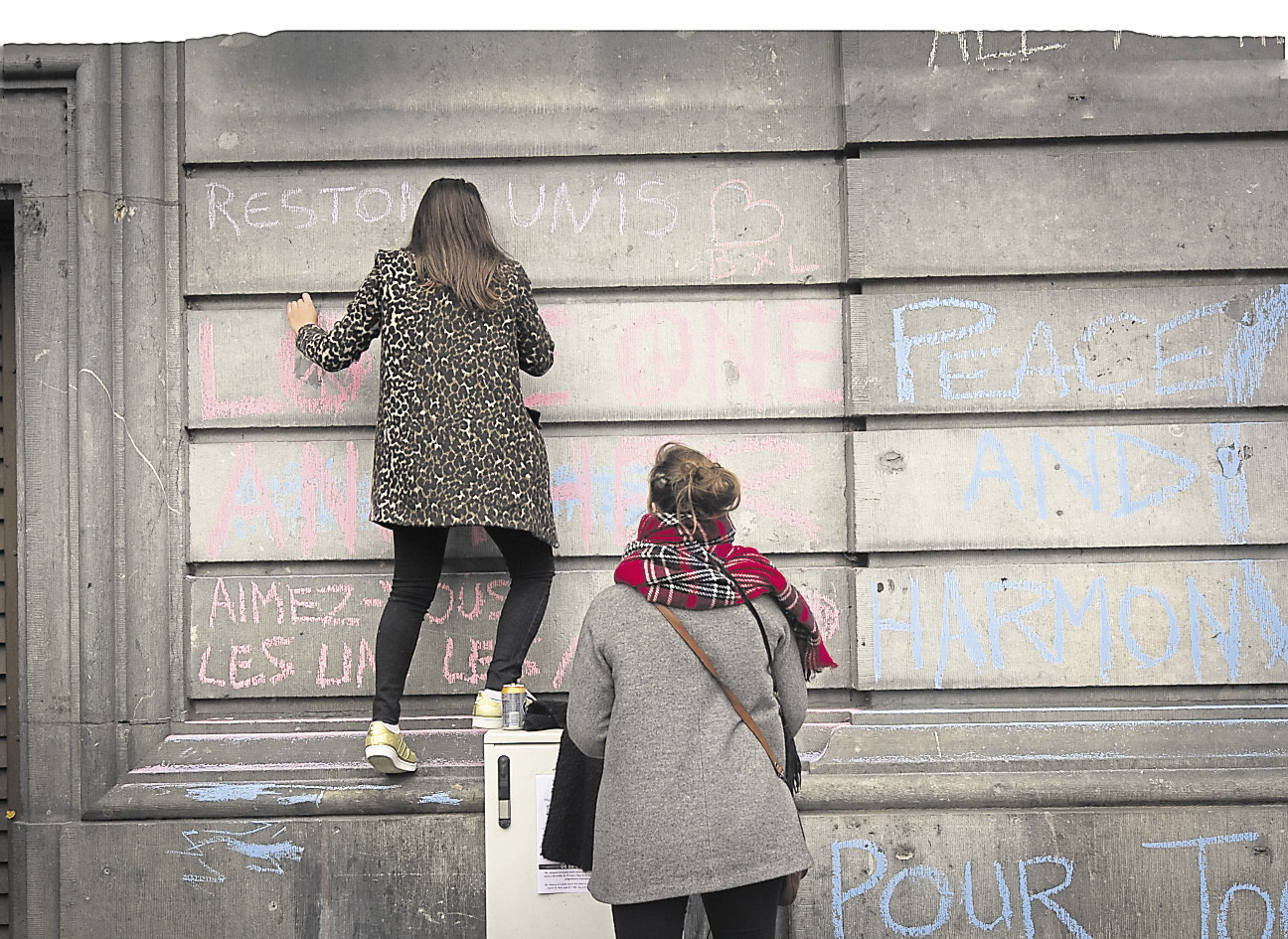 There is a widespread, deeply-held, belief that there is something different about Islam as a religion, something fundamentally wrong. Islam is seen by many as distinctively oppressive towards women, somehow much more violent than Christianity or Judaism, to name just the two other monotheistic religions.
In the wake of the Islamic State suicide terrorist attacks in Brussels, which killed 35 people on 22 March, there is clearly going to be much more Islamophobia, much more fear and hatred directed at the 19m Muslims living in the European Union.
If European societies are going to take effective action to stop such terrorism from taking place, we are going to have to have a better understanding of the people who carry out such attacks, and a more accurate picture of Islam in the context of other world religions.
When we look at the people who have carried out al-Qa'eda-style terror attacks in Europe, we find over and over again that they are not religious people who became extremely religious and therefore violent.
We find over and over again that these men (they are all men) were non-religious Muslims who were drawn to violent political action, and who (sometimes, not always) became religiously observant as part of that turn.
The Brussels three
Let's take the three men who carried out the Brussels attacks. This is what is known at the time of writing, less than a week from the bombings. More will no doubt be discovered.
Ibrahim and Khalid el-Bakraoui were born and raised in Laeken, a working-class part of Brussels. Marcelline Mertens, a neighbour in Laeken told the New York Times that the brothers seemed ordinary teenagers, 'not especially religious', who disappeared from the area about six years ago. Their father, Jamal el-Bakraoui, is reported to be an observant Muslim and a retired butcher.
An uncle, who also lives in Laeken, told the Daily Mail that the brothers had been bright school pupils: 'They were really nice guys. They were very serious and they studied a lot.' In his view, the brothers turned to crime because of poverty: 'Ibrahim didn't have any money. That is why he did the robbery, because he wanted to get some money.'
Ibrahim was put in prison in 2011 for firing on police after an armed robbery. Khalid followed him inside in 2012 for stealing cars. Up to this point, there was no sign of religious fervour or political commitments.
After prison, according to their uncle, 'everything was different': 'Their clothes, their appearance, their whole demeanour.'
The third Brussels bomber, Najim Laachraoui, was born in Morocco but brought up in Schaerbeek, next to Laeken. He also did well at school according to his former head teacher. Veronica Pellegrini, director of the Catholic 'Institut de la Sainte Famille d'Helmet', said: 'He was a good student with an immaculate disciplinary record'
Laachraoui's brother Mourad told journalists days after the bombing that his brother had been a 'practising' Muslim, as was the whole family, but that he had showed no warning signs of being radicalised before he suddenly left for Syria in 2013 and broke all contact with his family.
Laachraoui had dropped out after his first year at the faculty of applied sciences at the Free University of Brussels. A friend from his first year electro-mechanical engineering course in 2012 said on Facebook: 'How can you switch sides and blow yourself up when you used to play frisbee tournaments every weekend? I don't get it!'
The 'homegrown'
If this initial snapshot of the suicide bombers is borne out, it fits the pattern of previous 'homegrown terrorists'. We see over and over again that they come from non-religious backgrounds, and that there is no simple profile that identifies those who will turn to political violence.
The four British-born men who carried out the 7 July attacks in London in 2005 came from non-fundamentalist backgrounds.
The leader of the group,
Mohammed Sidique Khan, was raised as a 'liberal' Muslim, and told people that he had turned to religion after being involved in fights, drinking and drug-taking.
Germaine Lindsay (who took the name Abdullah Jamal) was born in Jamaica to an evangelical Christian mother, and converted to Islam when he was 15.
Shehzad Tanweer was a popular, cricket-mad young man with white non-Muslim friends, who was reluctant to learn passages from the Qur'an – until he was 18.
Hasib Hussein was raised in a devout Islamic family, but became a tearaway teenager, fighting in pubs and getting arrested for shoplifting. He became a fervent, born-again Muslim at the age of 16, worrying his family.
Taimour Abdulwahab al-Abdaly, who carried out a bombing in Stockholm in 2010 (killing only himself), was born in Iraq, raised in Sweden and apparently 'radicalised' in Luton, England, after going there for university. His childhood best friend Pelle Johansson said: 'He had no interest in Islam before he moved there [to Luton].'
Mohammed Merah, who carried out terror attacks in Toulouse and Montauban, was born in France to French parents of Algerian descent, and became a petty criminal in his youth, never going to the mosque. Often arrested, he was twice imprisoned. He continued partying in nightclubs, and drinking alcohol, while preparing the al-Qa'eda-inspired shooting spree which killed seven people in 2012.
Mehdi Nemmouche was a French national of Algerian origin who (inspired by IS) shot dead four people at the Jewish Museum of Belgium in Brussels, in May 2014. Nemmouche had a long criminal record, including arrests for armed robbery, vehicle theft, and vandalism. After his arrest for the museum killings, Nemmouche's aunt expressed surprise: 'He never went to the mosque or spoke of religion.'
The men who carried out the attacks in Paris in January and November 2015 had similar backgrounds.
Saïd Kouachi and Chérif Kouachi, who carried out the Charlie Hebdo massacre, were born in Paris to Algerian immigrants. They were not particularly religious growing up, until they became part of a group led by a charismatic French-Algerian militant, Farid Benyettou. In a French court document, Chérif Kouachi said he didn't consider himself a good enough Muslim, and said he had only been to the mosque two or three times before he met Benyettou, and he had been smoking cannabis.
Ahmedy Coulibaly, who carried out shootings in Paris synchronised with the Charlie Hebdo attacks, had a long history of criminal activity – including drugs offences. A fellow drug dealer told the BBC: 'He never went to prayers or talked about Islam.'
Five of the November 2015 attackers were French nationals. Friends of
Brahim Abdeslam told the BBC that he owned a bar in which he drank alcohol and smoked drugs, and that he liked football, clubbing, and bringing back women.
Omar Ismail Mostefai was arrested eight times for petty crime. He was involved in gang warfare on an estate, and is remembered as not being very 'serious' about religion growing up.
Samy Amimour's parents were not regarded by the community as practising Muslims, with Amimour's feminist mother helping out at a liberal Berber cultural centre described by the Financial Times as 'the antithesis of jihadism'.
Foued Mohamed-Aggad raised hell as a teen, smoking joints and getting drunk, and only becoming 'radicalised' in 2012, three years before the attacks. Brigitte Collige, the headteacher of Koninklijk Technisch school in Diest, said of
Bilal Hadfi (who went to her school briefly in 2013): 'It is a massive surprise for the teachers who knew him. He wasn't especially religious while he was at school with us.' In 2014, his brother told the authorities at another school that Hadfi had started smoking marijuana and skipping classes.
Childhood friends of
Abdelhamid Abaaoud, the Belgian believed to have masterminded the November attacks in Paris, say he smoked a lot of cannabis as a teenager and would steal to pay for his addiction, leading to his expulsion from school. It was during a prison stint for armed robbery that Abaaoud is believed to have become 'radicalised'. Abaaoud's older sister, Yasmina, (a professional woman who does not wear the veil) told the New York Times that neither of her brothers showed much interest in religion before they went to fight in Syria: 'They did not even go to the mosque'.
It should be clear from this brief survey that these young men, almost all born, and all raised, in the West, were not drawn to terrorism by their religious devotion. More of them were connected to marijuana-smoking than to mosque-going.
Gangs and surprises
According to expert Rik Coolsaet, professor of international relations at Belgium's Ghent university, there have been two main types of 'Europeans travelling to Syria' in the last few years.
The first category is individuals who 'might as well be (or are) part of "street gangs"', often with criminal records. (That applies to Sidique Khan, the Kouachi and el-Bakraoui brothers, and a quite a few others on the list.)
The second group is more fuzzy, Coolsaet writes: 'Before suddenly deciding to leave for Syria, alone or with friends and kin, the youngsters in this group didn't show any sign of deviant behaviour and nothing seemed to distinguish them from their peers.' (That seems to fit Shehzad Tanweer, Najim Laachraoui, and a few others.)
A common theme in these men's stories, Coolsaet notes, is the absence of a future, and personal difficulties that have 'left them feeling stifled and discontented'. Coolsaet observes: 'One gets the impression of solitary, isolated adolescents, frequently at odds with family ("my parents do not understand me") and friends, in search of belonging' and a sense of control.
For both groups, Coolsaet writes, 'terrorism research has indicated that neither poverty nor socio-economic deprivation are direct root causes of terrorism'. IS and al-Qa'eda do not just recruit from deprived neighbourhoods like Laeken, but also from comfortable middle-class homes, including people with university degrees, like al-Abdaly, and/or decent job prospects, like Sidique Khan.
Religion, Coolsaet concludes from his research, is 'not of the essence'. The European foreign fighters have a 'mostly superficial' acquaintance with Islam. He quotes French Islam scholar Olivier Roy: 'This is not the radicalization of Islam, but the Islamization of radicalism.'
'Radicalisation'
This is explained more by Alain Grignard, a senior member of the counterterror unit in the Brussels federal police, and a lecturer on political Islam at the University of Liege, speaking to the magazine of the Combating Terror Centre at West Point in the US. Grignard said last August: 'The young Muslims from "inner-city" areas of Belgium, France, and other European countries joining up with the Islamic State were radical before they were religious. Their revolt from society manifested itself through petty crime and delinquency. Many are essentially part of street gangs. What the Islamic State brought in its wake was a new strain of Islam which legitimized their radical approach.'
Here, 'radical' means violently alienated from society. At PN, we object to 'radicalisation' being associated with violence. 'Radicalisation' just means changing your political understanding of the world, coming to believe that deeper changes are needed in society. Developing a more radical outlook doesn't necessarily mean adopting violence; a radical analysis could lead to a nonviolent strategy for change.
And in fact there are Muslim fundamentalist groups in Europe who have their own radical analysis of what is wrong with western society, and no interest in violence as a strategy for change. Some engage in evangelism (da'wa), calling other Muslims back to the correct understanding of their religion.
Muslim fundamentalism
Around 45 percent of Muslims in Europe hold fundamentalist views, according to Ruud Koopmans, director of the WZB Berlin social science centre, but only a small fraction of them believe in violent action.
Koopmans surveyed 9,000 Europeans, Christians and Muslims. He defined religious fundamentalism as holding three views at the same time:
that believers should return to the eternal and unchangeable rules laid down in the past;
that these rules only allow one interpretation and are binding for all believers; and
that religious rules should have priority over secular laws.
Koopman told the science news service Eurekalert in January 2015 that a large minority of European Muslims have a fundamentalist view of their religion: 'Broadly speaking, between 40 percent and 45 percent of European Muslims have fundamentalist religious ideas, that is they agree with the three definitions of the term.' (This compares with less than four percent of Christians in Europe.)
However, Koopmans pointed out: 'Fundamentalism does not necessarily include or justify violence, as this is a form of behaviour and not an ideology.'
Not what you know
Coming back to homegrown European al-Qa'eda and IS terrorists, there seem to be many pathways to this kind of violent action, but, as Alain Grignard notes: 'Prison radicalization is a big factor in all of this'.
Inside prison, according to Grignard, recruiters have a powerful message: 'You had no choice but to carry out criminal actions because you were part of a discriminated against community. You were only defending yourself. And if you now put yourself in service of the cause by supplying false papers and weapons, not only are these actions legitimate but they will win you redemption and reward in paradise.'
Jihadist ideology here legitimises, even sanctifies, criminality. You don't need to know any verses from the Qur'an, you don't need to know any hadith about the prophet. You just need to do something concretely to help the umma, the global Muslim community under attack from the unbelievers. You just need to help the umma strike back.
A Europol expert review published in January noted that: 'Less than half of all persons arrested for joining IS [Islamic State] or expressing/displaying an intention to do so have relevant knowledge about their religion.'
It's not about believing in a religion, Islam. It is about feeling part of a community, when your community is portrayed to you as being under violent assault – just for being Muslim.
If we want to stop young Muslims going down the path to suicide terrorism,one part of what we have to do is to stop violent assaults on the Muslim communities around the world, especially ones carried out by our own governments. This is something we should be doing anyway. It is demanded by simple common humanity.