Issue

August 2015 - September 2015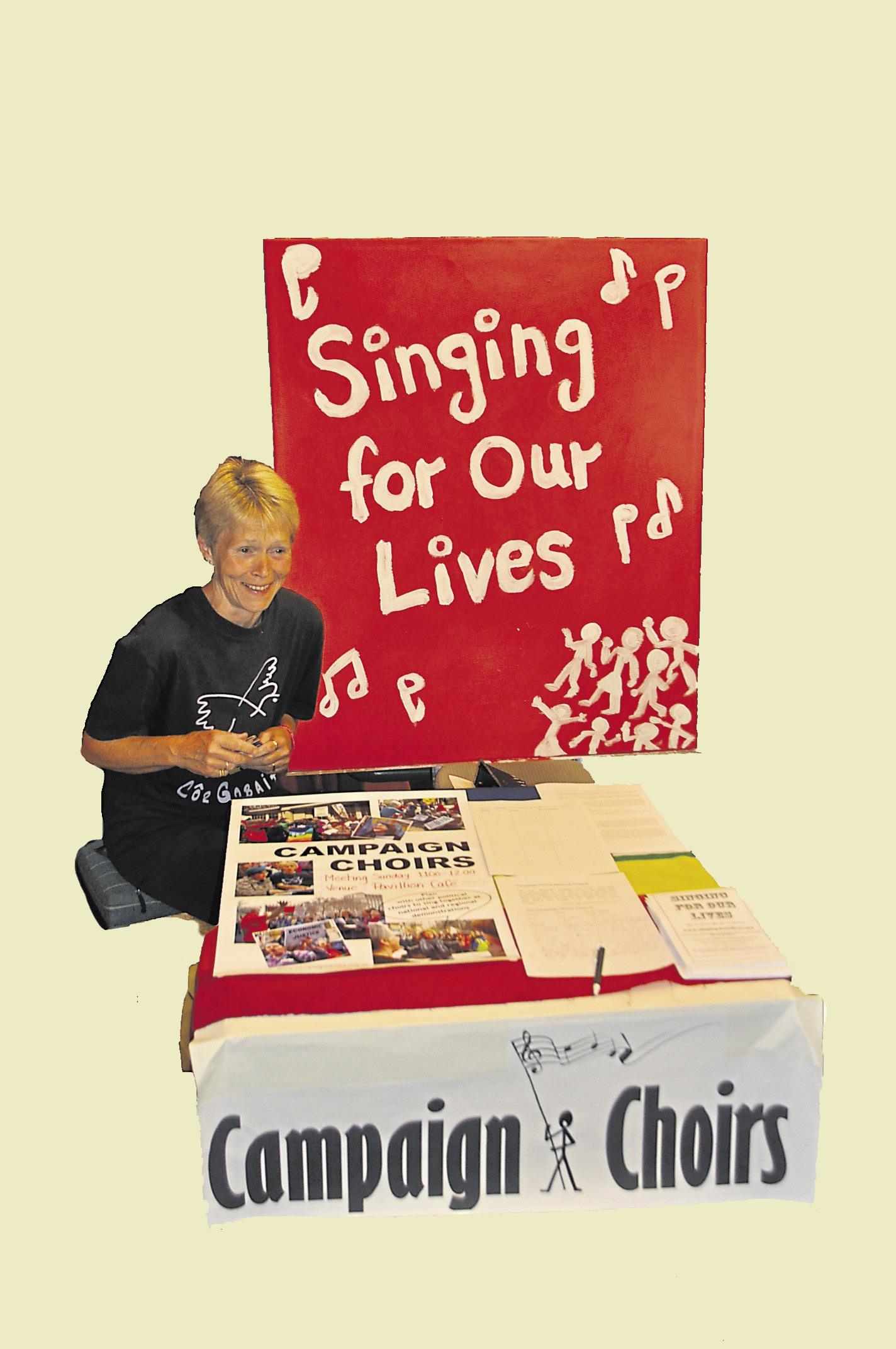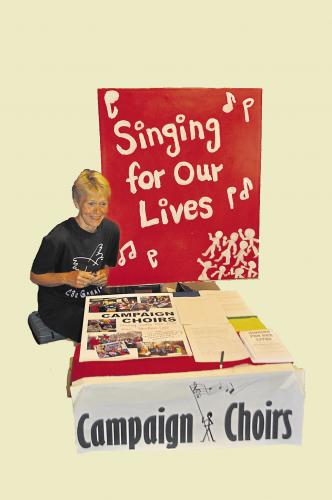 Campaign Choirs stall at the street choirs festival PHOTO: Kelvin Mason
Austerity, exploitation and inequality go hand in hand and there is a rising anti-austerity movement throughout Wales, with numerous grassroots groups springing up across the country.
On 20 June, as more than 250,000 people protested in London, hundreds marched in Aberystwyth, led by the inimitable, battle-scarred red dragon Y Ddraig Goch of Faslane fame. Marching to singing and drumming, marchers demanded support for the NHS, education and welfare – while abandoning Trident replacement, increasing corporation tax and cutting bankers' bonuses.
A week later, as part of a UK-wide campaign against the government's workfare scheme, targeting B&M Bargains, groups demonstrated outside more than 20 stores, seven of them in Wales.
In Aberystyth, many customers turned away, shocked to hear that staff effectively earned less than £2 an hour, were dismissed after 13 weeks, and thus had no prospect of turning the 'work-experience' into a job. Workfare denies someone else a fully-waged job and adds an exploitive margin to corporate profits.
Singing 'Hey! No! Workfare must go! Everybody needs a living wage' to the tune of 'Come Mr Tallyman, tally me banana', protesters sent a strong message to managers, staff and customers alike. Protests continued on budget day, 8 July, outside the offices of Ceredigion's LibDem MP.
In the wake of the budget, the campaign looks set to continue.
Cultural harm
Meanwhile, Cynghrair Cymunedau Cymraeg – the Alliance of Welsh Communities – is part of a new anti-austerity initiative looking at strategic solutions to the crisis. The intention is to invite unions in Wales to examine the effects of austerity not only on working practices and services but also on the Welsh language, thus taking the battle onto a cultural front.
Cuts have already hit further education: transport is no longer free for students over 16 and 93% of the secondary school pupils affected are attending Welsh-medium schools.
There is increasing alarm at how S4C will be affected in the long-term and a campaign to support the only Welsh-language television channel has been launched through social media (#achubS4C).
On the issue of employment, Alliance co-ordinator David Wyn said: 'The fact that a quarter of the population of Wales is employed by the public sector means that Wales should be considered in a different manner from London. Here, if the public sector is shrinking, then the economy will match that.'
Singing for our lives
Singing against austerity was a major theme of the annual Street Choirs Festival, this year held in Whitby on 10 – 12 July. Welsh choirs joined their English and Scottish comrades to present a number of new protest songs. The Campaign Choirs Network clearly has a bigger role than ever in the street choirs movement and in engaging more people in protest.
Understanding the pervasive threat of neoliberalism, Campaign Choirs has developed a project to gather the rich history of street choirs through recording members' stories. These will be published to inspire a new generation to sing and take action with their communities.
The project 'Singing for Our Lives: Stories from the Street Choirs' is urgently seeking funds through Crowdfunder.