Issue

August 2015 - September 2015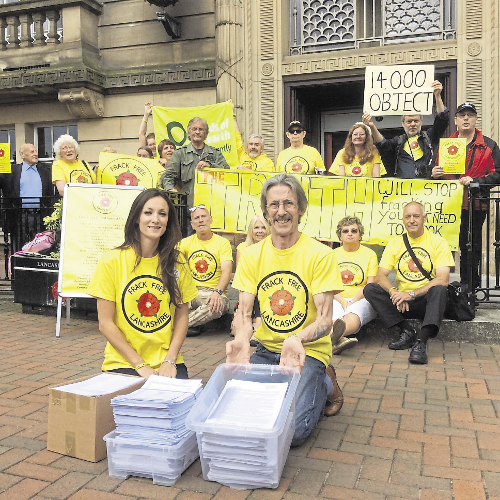 Petition against fracking handed into Lancashire county council, August 2014. Photo: Frack Free Lancashire.
After Lancashire county council unexpectedly rejected Cuadrilla's application to frack at Preston New Road, near Blackpool, on 29 June, I wanted to hear a bit more of the story from someone at the frontline of this monumental decision. Bob Dennett is a co-founder of Frack Free Lancashire. On 1 July, he told me a bit about the story that led to Monday's campaign win, and the fight that still lies ahead.

LBB: How are you feeling today?

BD: Tired. But very, very pleased at the result that we got. It's a real landmark decision for fracking around the UK and potentially Europe.
LBB: How did yesterday's decision come to pass?

BD: It wasn't just yesterday. It was all of last week.

We got to a point last Wednesday in the planning committee meeting where there were five councillors against fracking and two had spoken in favour of it. Then they broke for lunch and the whole dynamic changed.

Things happened during the lunch break. One of the councillors had an email that no one else had access to, saying they could be personally sued by Cuadrilla if they rejected the application.

They came to back to discuss and councillor Hayhurst said wanted to see the advice they had received in writing. This eventually came through late Wednesday night, but what they got in writing wasn't exactly what they had been told earlier.

We all got to work over the weekend and the Preston New Road group got an information pack out to the councillors with two pieces of alternate legal advice, one from Friends of the Earth and one from one of our barristers.

After the vote, in conversations I had with three of the councillors, they told me they were all angered the advice they were given the previous week was incomplete and was undermining democracy. They weren't happy with that. You might get away with that at central government level, but you won't get away with it at local level. So those councillors came in Monday morning, all guns blazing.

Yesterday, we saw democracy at work.

LBB: How long have you been fighting fracking?

BD: I've been fighting fracking for just short of four years. Initially, there were just a few of us around the UK, lobbying local government about it. That's when Cuadrilla made a mess of their Anna's Road site and had to reapply for planning permission.

'You can reapply,' Lancashire County Council told them, 'but we want to see an environmental impact assessment, which will take nine months.'

Meanwhile, Cuadrilla went to Balcombe, West Sussex.

Their site was right in the London commuter belt and the bohemian community from Brighton was close by. They helped set up a protection camp there. Three weeks into the camp, we hired a bus and headed down to support them, which stirred up a lot of excitement because we were the only community in the country actually being fracked and we are still the only community in the UK who have been fracked. Press were waiting for us when we got off the bus and it stirred up an immense amount of public awareness about the issues.

That really started the ball rolling and networks formed across the country.

Last year we started Frack Free Lancashire, which galvanised local groups. Now there are 40-plus anti-fracking groups in Lancashire and 300-plus across the country.

Last week, as the council prepared to make their decision, we had several hundred people from across the country come up to support us, and yesterday several hundred more arrived.

The amount of support we've received has been phenomenal, with 38 Degrees, Greenpeace, Friends of the Earth, Lush, Ecotricity and all the local people who have gotten involved to help us continue with the fight have been amazing.

LBB: What are the next steps for Frack Free Lancashire?

BD: We obviously haven't won the war. We still have quite a lot more to do.

Cuadrilla have said they're going to appeal the decisions against their applications and we are going to get ourselves ready and get our ducks in a row to fight those appeals.

LBB: What can others do to support Frack Free Lancashire?

BD: Continue to keep the public aware that this isn't over. Particularly locally, we need the public to appreciate that this war isn't over. We need to keep the momentum going.

Join the Frack Free Lancashire Facebook group, sign the Friends of the Earth petition asking David Cameron not to interfere with the local decision-making process. My personal feeling is that if the government do try to overturn yesterday's county council decision, we'll have a poll tax situation on our hands and it could bring the government down.