Issue

August - September 2022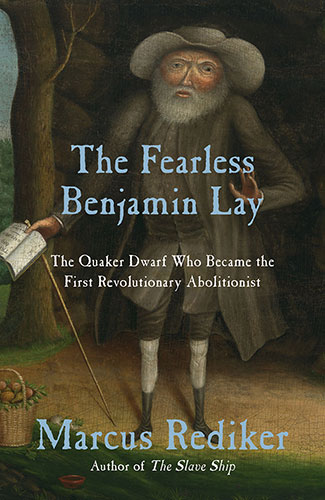 Sometimes you discover a book which you just can't believe slipped past you when it was published.
Marcus Rediker's 2002 book The Many-Headed Hydra: The Hidden History of the Revolutionary Atlantic (co-authored with Peter Linebaugh) has become a modern classic. So how could anyone with an interest in radical history fail to spot the publication of a new book by him – let alone one with this book's subtitle?
Fortunately, it's not too late to correct this oversight.
Given the prominent role played by Quakers in anti-slavery movements, it may come as a surprise to some readers to learn that this struggle first had to be fought and won within Quaker communities.
Yet when Benjamin Lay and his wife Sarah arrived in Philadelphia in 1732, 'more than half the members of the Philadelphia Monthly Meeting owned slaves'.
In 1738, Benjamin was to become 'the last Quaker disowned for protests against slavery'. Yet it wasn't until 20 years later that Quakers agreed 'to the possibility of disowning a member for slave-trading and an additional eighteen years to begin to excommunicate slave owners.'
One of the reasons for these changes was Lay himself, who for a quarter-century 'railed against slavery in one Quaker meeting after another, in and around Philadelphia, confronting slave owners and slave traders with a savage, most-un-Quaker-like fury.'
Born in Essex in 1682 in the village of Copford, Lay came from a humble background and was poor for most of his life.
Self-educated, with little formal schooling, he worked variously as a shepherd, a glover, a sailor (in which capacity he travelled the globe) and a bookseller.
He was also only a little over four feet tall and a 'hunchback', with a rounding of the middle of the spine called 'kyphosis'.
Rediker writes that he 'found no evidence that [Lay] thought himself in any way diminished, nor that his body kept him from doing anything he wanted to do.' When the author of an article in the Pennsylvania Gazette, defending the freedom of the press, was attacked for trying 'to persuade us, that an Ethiopian is as Fair as a Helen or that Ben Lay is the tallest and straightest Man in America', Lay himself responded in the next issue: 'THEE has taken the Freedom to publish to the World, that I am neither tall nor strait in Body. – Friend, – we neither made our own bodies nor can we mend them. But our bad Lives and Manners we may mend; and our foolish and ignorant Conduct and Behaviour we may mend; wherefore take it not amiss that I admonish thee a little'.
It was the 18 months that the Lays spent in Barbados – then 'the world's leading slave society' – that transformed Benjamin.
The couple had set up a small dock-side shop there in 1718. But, horrified by what they were witnessing, Benjamin and Sarah (who was also a 'little person') started holding meetings and serving meals at their home, attended by ever larger crowds of enslaved people, at which the Lays would denounce slavery.
The Lays left Barbados in 1720. When they finally settled in Philadelphia, Benjamin was horrified to find 'the greatest Sin in the World' flourishing in the City of Brotherly Love. It was not long before he came into conflict with the 'weighty Quakers' – many of them slave-owners – who led the religious and political life of the city and colony.
Lay began to stage public protests, often in the form of guerilla theatre. For example, one Sunday, following a heavy snowfall, he stood outside a meeting house with his uncovered right leg and foot buried in the snow. When his fellow Quakers urged him to desist, he replied: 'Ah, you pretend compassion for me but you do not feel for the poor slaves in your fields, who go all winter half-clad.'
Lay also disrupted Quaker meetings in and around Philadelphia. Indeed, The Fearless Benjamin Lay opens with an account of perhaps his most spectacular protest, in September 1738, at the biggest event of the Philadelphia Yearly Meeting. After rising and denouncing slave-owning, Lay threw off his great coat to reveal himself to be wearing a military uniform, and carrying a sword and a book.
'Thus shall God shed the blood of those who enslave their fellow creatures,' he cried, before plunging the sword into the book from which blood (actually pokeberry juice hidden in a secret compartment) then appeared to pour. Lay was picked up and removed from the building.
That same year (1738), Lay also published one of the world's first books to demand the abolition of slavery: All Slave-Keepers That Keep the Innocent in Bondage, Apostates.
'Benjamin wrote his book at a time when slavery seemed to many people around the world as natural and unchangeable as the sun, the moon, and the stars in the heavens', Rediker notes. 'No one had ever taken such a militant, uncompromising stand against slavery in print or in action.'
And, if all of the above wasn't already enough, he was also a vegetarian and proponent of animal rights ('Would you have me eat my neighbours?' he once replied, when asked to dine on poultry), an environmentalist, and an opponent of the death penalty.
'He wore simple, undyed clothing: blue dyes were made from indigo, often produced by slaves; red dyes from cochineal beetles. He criticized the destructive power of money, greed and materialism, and he tried to disassociate himself from aspects of the growing international capitalist economy.'
Indeed, for the last third of his life, following Sarah's early death, Benjamin lived in a cave, cultivated his own food, and made his own clothes.
This is a short, well-written and copiously researched book about a fascinating and heroic figure.
The casual reader should be warned that a significant chunk of it is devoted to the history of Lay's various altercations with Quaker meetings in England – where he (verbally) attacked 'false ministers' – and his idiosyncratic interpretation of the Book of Revelations. Doubtless, both topics are essential to a full understanding of Lay's activism. Nonetheless, some may choose to skim these sections.
Lay died in 1759. The Quakers finally supported abolition in 1776.
Assessing Lay's legacy, Rediker quotes the conclusions of one historian 'that the years 1735 – 1743 – when Benjamin's antislavery protests were at their peak – mark "a profound shift in the attitudes of Philadelphia Quakers toward buying imported slaves"' and that 'It was almost certainly Ralph Sandiford and Benjamin Lay, alongside less vocal supporters, who had changed the hearts and minds of a younger generation in the 1730s and 1740s.'
Rediker writes that Lay is 'little known among historians' and 'almost totally unknown to the general public'. I, for one, had never heard of him. Hopefully, this remarkable must-read book – and its recently published graphic novel spin-off Prophet Against Slavery: Benjamin Lay, A Graphic History – will go a considerable way to changing this.