Issue

August - September 2022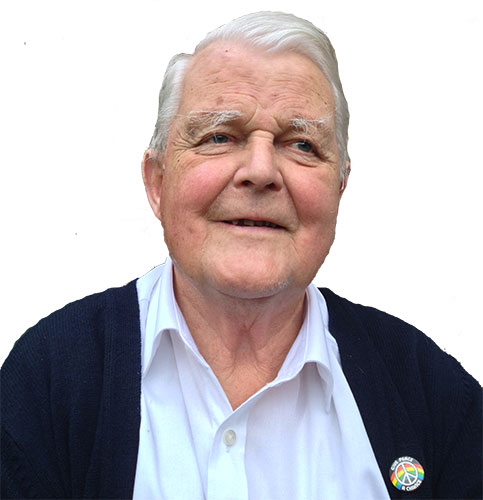 There are activists who are respected or admired, and there are activists who are loved. Bruce was loved, he was beloved.
Bruce Kent was human decency turned into a human being.
For people of my generation, who came of age in the 1980s, Bruce was a beacon of sanity in a terrifying world. He was the voice of the peace movement: direct, honest and completely fearless.
He has continued to be that beacon of sanity and common sense.
Pat Gaffney, one of Bruce's close friends, has very kindly agreed to write an obituary for us (see p15). I'd like to add some personal remarks.
Bruce once told me that, because of the way that prison can damage people, he was very reluctant to encourage people to take part in arrestable action.
This came up because I was asking him to lend his name to a call-out for people to blockade a military base.
I think this is an important point to make in Peace News, which has long had a commitment to the direct action side of activism, and which has, no doubt, contributed to glorifying arrestable action.
That's partly why I chose the 'As I Please' column of Bruce's which we've reprinted in this issue, because it gently argues for a different way of looking at things, pointing out that 'direct action comes in different shapes and sizes': 'Just as "direct" is the undramatic work of so many ordinary members of so many groups who keep the peace movement going and growing.'
Having said all this, I should point out that Bruce himself did engage in civil disobedience. For example, he was convicted of going equipped to cut a fence at a US nuclear base, and he also once withheld the part of his taxes that he calculated went to nuclear weapons.
For myself, I am one of thousands of people who have benefited personally from Bruce's warmth and generosity.
I can't believe now that, for several years, on top of all his millions of other commitments, Bruce spared time (along with Pat Gaffney and Chris Cole) to be a trustee and advisor of a tiny peace group I co-founded. That astounds me, looking back.
Our relationship didn't get off to a great start. When I was just starting out in activism in London, in the late 1980s, I wrote a very harsh letter to Bruce, criticising something he had written as not radical enough, at all.
He typed up a long letter responding to the points that I'd made, which he then crossed out.
Instead, underneath the crossed-out letter, he wrote, by hand: 'Please come to see me and let's talk'.
That human touch is typical Bruce.