Issue

August - September 2022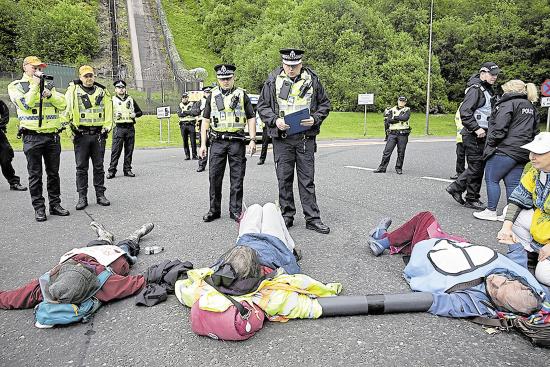 Four activists were arrested during the 10-day Trident Ploughshares/XR Peace 'FABB' (Faslane Action for Bomb Ban) Camp in Peaton Wood, in western Scotland in June.
On 13 June, one of the arrestees, Gillean Lawrence of XR Peace, was deprived of her heart medication for nine hours by police at Clydebank police station, and threatened with being held overnight without access to her medication. She has made a formal complaint.
Peaton Wood is very close to RNAD Coulport which stores the nuclear warheads for Britain's Trident missiles. The missiles are carried by Trident submarines based at Faslane in the neighbouring loch.
On 14 June, four activists managed to canoe into Coulport's waters and one, Ginny, landed on Coulport's 'beach' and planted a peace flag inside the base.
The day before, five women from Greenham Women Are Everywhere poured fake blood on themselves and carried out a die-in, blocking part of the main gate of RNAD Coulport.
They were followed by three members of the 'Peace Pirates' Trident Ploughshares affinity group who locked-on, blocking the road at the nearby roundabout.
The Greenham Women were not arrested but the Peace Pirates were – including Gillean Lawrence.
The FABB Camp, running from 9 – 18 June, was set up to publicise the UN Treaty on the Prohibition of Nuclear Weapons and 'to record opposition to UK threats of nuclear mass destruction'.