Issue

August - September 2022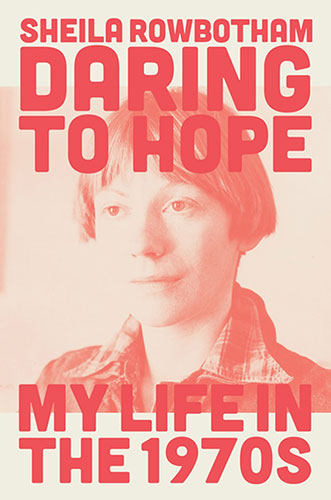 '1977 was the Queen's 25th Jubilee, so we were subjected to doses of gush and drool in the media accompanied by her celebratory pink hat.… Labour was in power, but the new leader, James Callaghan, was more royal than the royals, and I was aware that a new right lurked among the Conservatives, deploying a rhetoric of freedom while backing the suppression of trade unions as well as gays.'
This quote is so topical I had to include it in the review, although it is one of the most subjective paragraphs in this beautifully-measured account of a radical decade.
Of course, a social historian will keep thorough records of their life. But I am in awe of the phenomenal amount of campaigning that Sheila Rowbotham achieved through the 1970s while continuing to study, teach in a school, run adult education courses, write an abundance of articles, pamphlets and books, speak at conferences across the country and the globe and, towards the end of a decade, become a parent.
Rowbotham has already re-visited the 1960s in Promise of a Dream: Remembering the Sixties. This volume begins in 1970 when she is 26, working on her first book and getting ready to speak at the seminal Women's Liberation Conference at Ruskin College, Oxford.
As a social historian, her interviews with working-class women and activists from previous generations are incredibly valuable. She meets and makes friends with suffragettes, old communists and an ageless Dora Russell. This book is a valuable bridge between today's feminism and that of our forebears.
Rowbotham acknowledges the personal is political – she manages a committed relationship with two partners through much of the decade. The most personal entries are a handful of poems which illustrate her thoughts about family, friendship and love. But the majority of the book is a carefully-woven account of the 1970s informed by her activism and passion for socialism and feminism.
It isn't a roller-coaster ride through the decade, it's a radical walk with an entertaining and experienced guide. She gently explores differences of opinion between radical feminists and socialist feminists and shares her concerns about the relevance of Trotskyist politics in the contemporary world. It is clear that she was an early believer in the power of intersectional solidarity between campaigners.
The decade ends on a low with the first female prime minister, Thatcher, coming to power and beginning to demolish the welfare state. 'Socialist feminists like me did not give up on hope, but some of the daring was diminished. None of this was known to me in 1979, and thus belongs to another remembered story.'
I look forward to Rowbotham's account of the 1980s.