Issue

February - March 2022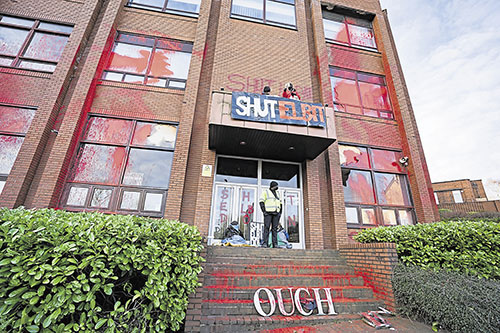 Palestine Action (PA), the direct action group, has claimed three recent victories, including winning both of its first two court cases.
On 10 January, the Israeli drone-maker Elbit Systems announced that it had sold off a UK factory which had been disrupted over a long period by PA.
Just 10 days later, three PA activists walked free from Birmingham magistrates court after the crown prosecution service (CPS) dropped charges of criminal damage, aggravated trespass and resisting arrest at an Elbit-related company's offices in July 2021.
This followed the acquittal in December of three PA activists on charges of criminal damage – despite covering the walls of Elbit's Shenstone factory with red paint during a combined PA and XR action in February 2021. Their acquittal was another effect of the supreme court's Ziegler decision.
Since mid-2020, Palestine Action has organised a direct action campaign against 10 sites in the UK owned by the Israeli company Elbit Systems.
Elbit has now sold one of those factories, in Oldham, to a British firm (TT Electronics) along with the rest of its Ferranti Power and Control subsidiary. The Oldham factory had produced essential equipment for Israel's military drones.
PA has claimed the sell-off as major success, since it followed a sustained campaign there involving weekly protests and frequent actions. Activists occupied, blockaded and disrupted the factory's operation – along with property damage. The actions (many reported in previous issues) have led to 36 people being arrested.
One the same day the sale was announced, PA broke into the UAV Engines factory at Shenstone, near Kidderminster in Worcestershire. The site manufactures drone components and engines for Elbit (which produces 85 percent of Israel's fleet of drones).
The PA activists covered the factory in painted slogans including: 'Shut Elbit Down', 'Free Palestine' and 'First Oldham, Next Shenstone'. One campaigner was arrested.
Six acquittals
The previous month, on 6 December, Milly Arnott (27), Michael Smithers (37) and Sarah Wilkinson (57) had been found not guilty of criminal damage despite throwing bottles of red paint onto the walls of the Shenstone factory during a PA/XR action in February 2021.
In his judgment explaining the acquittal at Newcastle-under-Lyme magistrates' court, judge Marcus Waites said the crown prosecution service had failed to prove that the conviction of the defendants would be proportionate to their right to protest. He said the duration of the protest and disruption caused had been limited and posed no threat to public order.
Clearly, he was influenced by the Ziegler case. The verdict was hailed by PA, quite understandably, as a 'landmark' decision.
The 20 January trial, which also saw three PA activists walking free from court, related to a rooftop occupation of the offices of Vine Properties Ltd (trading under the name Fisher German). Vine manages Elbit's Shenstone factory.
The CPS failed to offer evidence against the three women on trial, not even the silver command police log which would have recorded all tactical command decisions made on the day.