Issue

February - March 2022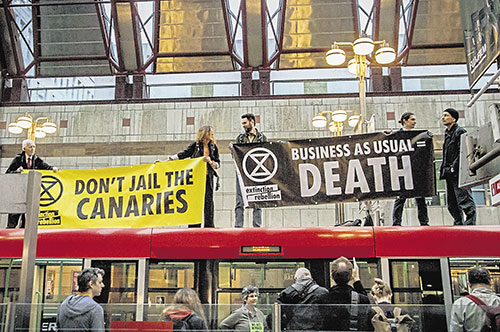 On 10 December, six climate activists were found 'not guilty' by a jury at Inner London crown court of obstructing a Docklands Light Railway (DLR) train at Canary Wharf station in East London on 25 April 2019. Five of them were from Christian Climate Action (CCA).
On 14 January, three CCA direct actionists were found 'not guilty' by another jury at the same court. They had also stopped a DLR train, this time at Shadwell station, on 17 October 2019. (One of them had also taken part in the April 2019 action, meaning the two trials involved only eight people.)
The charge in both cases was 'obstructing any engine or carriage using any railway', a crime under the Malicious Damages Act 1861 punishable by up to two years in prison.
These were two of the first protest cases to be heard in crown court following the supreme court's landmark Ziegler ruling that human rights such as the right to life and liberty and freedom of opinion and expression can, under some circumstances, justify acts that would otherwise be illegal. (See p8 and p10.)
The first case involved five CCA members: Richard Barnard (48), Ian Bray (54), Nick Cooper (39), Ruth Jarman (58) and Phil Kingston (85). The non-CCA activist was Dr Diana Warner (62) – later jailed for her Insulate Britain actions.
In court, the five CCA campaigners freely admitted that they had climbed on top of the train with banners that read 'Business As Usual = Death' and 'Don't Jail the Canaries' (other Extinction Rebellion protesters who were facing prosecution at the time). Diana Warner admitted glueing herself to a train window.
They justified their actions as a protest at the financial district's funding of the climate emergency. They claiming it was a lawful response to imminent climate breakdown and ecological collapse.
The January case involved reverend Sue Parfitt (79), father Martin Newell (54) and, once again, Phil Kingston (85).
The three did not dispute that, at 7am, Phil Kingston had super-glued his hand onto the side of a DLR train and the other two had climbed on top, resulting in a 77-minute disruption during morning rush hour.
They argued that they were lawfully exercising their right to peaceful protest under the Human Rights Act. They described their temporary obstruction of the train as a proportionate response to the existential threat facing Earth's inhabitants.