Issue

February - March 2022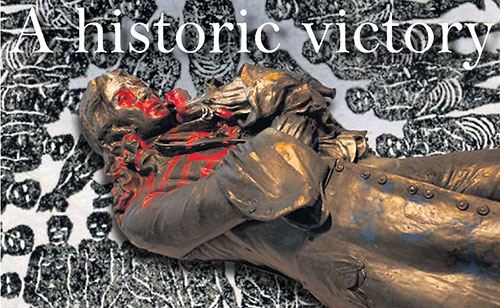 The acquittal of four anti-racist activists of charges of criminal damage has led to a storm of protest from right-wing commentators.
Rhian Graham (30), Milo Ponsford (26), Jake Skuse (33) and Sage Willoughby (22) did not deny their roles in bringing down the statue of slave-trader Edward Colston and rolling it into Bristol harbour on 7 June 2020. The Colston Four argued that their actions were legally justified (see p8 for details) and persuaded the jury to return a majority 'not guilty' verdict.
Part of the evidence that secured their acquittals was contributed by Black British historian and broadcaster David Olusoga.
Professor Olusoga told the court that Colston was 'heavily involved' in a firm that 'transported more Africans into slavery than any other company in the whole history of the slave trade in the north Atlantic'. Colston worked his way up to being what we would now call the chief executive officer of the Royal African Company (RAC).
While Colston held shares in the RAC, it trafficked 84,000 Africans into slavery, including 12,000 children, Olusoga added. They were all – even children as young as nine – branded on their chests with the initials 'RAC'.
The court also heard testimony from Gloria Daniel, the descendant of an enslaved African 'owned' in 1797 by the then mayor of Bristol: 'The fact the statue of a slave trader had remained up for so long, and without contextualisation, was in my view profoundly shameful.The world had witnessed the public execution of George Floyd and we finally arrived at a place in history where people would no longer tolerate the continuing dehumanisation of black people.'
Barrister Blinne Ní Ghrálaigh, representing Rhian Graham, said that her client believed the people of Bristol did not want a statue of a slave trader venerated as a 'virtuous and wise' philanthropist in their city, any more than they would want one of the TV personality and paedophile Jimmy Savile.
Ní Ghrálaigh said that Savile, like Colston, was 'lauded in life and in death, as "somewhat of a philanthropist", given the donations he made to schools and hospitals in particular.'
However, after it became public knowledge that Saville was a prolific, predatory sex offender, 'plaques, memorials and even his gravestone were quickly removed, as was a statue of him in Glasgow.… And no one spoke in favour of keeping any of it.'
Rhian Graham told the Observer after the acquittal: 'I keep hearing that this case is a green light for pulling down statues. But it's not – it's about this statue, in this city, in this time.... The verdict does not give people the right to go around smashing things up willy-nilly.'