Issue

December 2021 - January 2022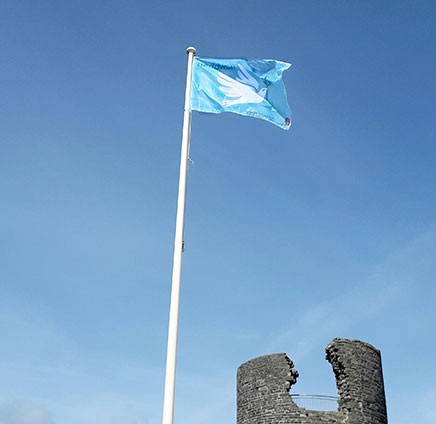 On 21 September, Aberystwyth town council officially marked the UN International Day of Peace for the first time.
Peace campaigner – and current mayor – Alun Williams noted that 'Aberystwyth has played a prominent role in advocating for peace and disarmament' for many decades.
He mentioned a number of events, dating back to 1926 when the town hosted the annual international peace conference associated with the League of Nations, usually held in capital cities. The Cambrian News reported that: 'The delegates were greatly impressed by the munificence of the reception by the people of Aberystwyth.'
Williams also listed a Peace Pageant held in 1935 and a large CND demonstration in 1965. He recalled the night in March 2003 when the invasion of Iraq was launched: 'there was a huge, noisy demonstration in the streets against the war.'
Williams spoke of the town's Remembrance Day ceremony in 2004 when Aberystwyth town council began laying a white poppy wreath in addition to the usual red poppy wreath.
Williams noted Aberystwyth's key role in the setting up, 'exactly one year ago today', of the Wales Peace Academy, Academi Heddwch Cymraeg. He concluded: 'So, when Aberystwyth town council was asked by a group of local residents to formally mark the United Nations International Day of Peace on 21 September, it had no hesitation in agreeing. The flag that's been raised here to mark the day is also being flown at Ceredigion county council offices in Aberystwyth and Aberaeron. It's a pleasure – and entirely in keeping with the history of Aberystwyth – to see it raised here today.'