Issue

December 2021 - January 2022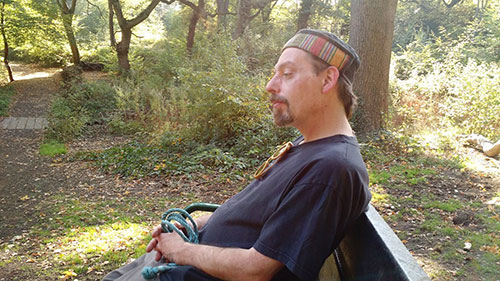 Maker, dancer and lifelong activist Jon Lockwood has died aged 54.
Unfailingly kind in his personal life, Jon took part in a wide range of struggles to change the world for the better: from anti-nuclear activism and Reclaim the Streets, to squatting and the Occupy movement (of which he was an early, and vigorous, promoter on social media).
'Evil Jon' (though he was anything but evil) was a familiar figure to anyone who attended the various PN Summer Camps of the early 2010s.
Jon was also a regular volunteer at events where PN had a presence over the past decade, often accompanied by Juan, his blue ventriloquist's puppet-bird, and/or the flag that he had made featuring an appliqué picture of Merlin, his beloved cat of 20 years. (Featuring the single word, 'Disobey', the flag drew tourists like a magnet.)
In 2011, Jon helped to run the logistics for PN's 1,300-strong Rebellious Media Conference, featuring Noam Chomsky. In 2013, Jon organised a benefit for PN at the Cockpit Theatre ('Come out! We have you surrounded!'), for which he also designed the poster: a wonderful collage inspired by Nicholas Lokhoff's famous 1901 satirical cartoon, 'Social Pyramid'.
A piece of Forum Theatre that Jon designed for the 2012 camp (Dr Who and the Exiles) showcased both his politics and his passion for science fiction. Its scenario envisioned the Earth's peace activists and other troublemakers cryogenically frozen and sent to live on the moon of a planet dominated by the spiritual heirs of (then-prime minister) David Cameron.
Needless to say, participants were encouraged to find ways of making common cause with the moon's indigenous life-forms as well as dissidents on 'Planet Dave'. Regrettably, the piece was never performed.
A trained dancer (he once performed alongside Rudolf Nureyev), Jon had worked front-of-house in various theatres, but also spent time in Portugal as a goatherd and in schools as a support worker for children with special needs.
Spurred by his own hearing problems, Jon learned British Sign Language and earned a degree in Deaf studies. He spent much of the last two years single-handedly building himself a small-but-perfectly-formed house out of recycled and gifted materials.
Highly creative (at one point he was sharing his home with not one but two of his papier-mâché statues of Nosferatu), friends could expect to receive such wonders through the post as a bottle of home-made Hawthorn Ketchup or a linocut print of a Dalek.
A gentle soul, UK activism (and much else besides) is a poorer place without him.