Issue

December 2021 - January 2022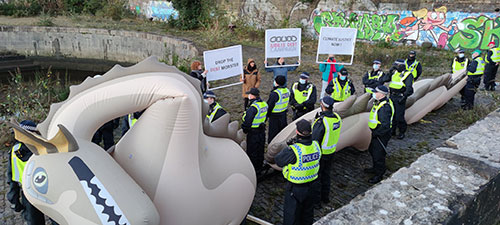 This is a small sample of what happened in Glasgow during the COP26 climate talks! Almost all these events were organised by the COP26 Coalition, a UK-based climate justice coalition bringing together environment and development NGOs, trade unions, grassroots community campaigns, faith groups, youth groups, migrant and racial justice networks and more. Behind the scenes, the coalition also: ran a visa support service; mobilised people across Scotland to open their homes for a Homestay Network; and organised a team of over 150 interpreters to improve accessibility at coalition events. www.cop26coalition.org
 
31 October
'The Era of Injustice is Over: COP26 Coalition Opening Event' featuring speakers from across the climate justice movement, including youth from Fridays For Future Most Affected Peoples and Areas. Available on YouTube (starts at 4min 10sec): cop26coalition.org/opening-rally
1 November
Start of Inside Outside, an-almost daily five-minute video summary of what had been happening both inside the negotiations and outside among the people's movements. Available on YouTube: www.tinyurl.com/peacenews3697
 
First 'Movement Assembly': 'Climate Justice Movement Strategy #1'. What are the big fights at COP26, and how do we intervene and take action together? Available on YouTube (starts at 6m 6s): www.tinyurl.com/peacenews3699
2 November
l Movement Assembly: 'Climate Justice Movement Strategy #2'. What does winning look like and how can our strategies be interwoven between the inside and the outside? Available on YouTube (starts at 29m 5s):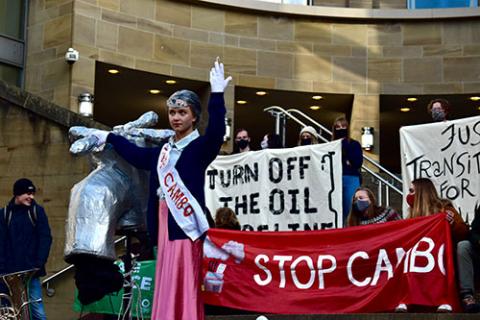 3 November
4 November
Work & Unions Movement Assembly. The Just Transition must be led by workers – with a new deal that lifts people out of poverty, increases workers' rights and includes a shorter working week. Available on YouTube (starts at 5m 36s): www.tinyurl.com/peacenews3701
5 November
Organised by 'Fridays for Future', there was a march of over 30,000 people in Glasgow demanding climate justice as part of the day's climate strike.
 
The Feminist Movement Assembly addressed gender justice, 'giving particular consideration to the question of what major feminist fights we consider to be on the horizon'. Available on YouTube (starts at 10m 55s): www.tinyurl.com/peacenews3702
6 November
The COP26 Coalition organised a march of 100,000 people in Glasgow as part of the Global Day of Action for Climate Justice (which included 100 events in the UK and another 200 events around the world). The march was led by indigenous activists, and the rally at the end began with indigenous speakers. On the Glasgow march, sections included: an Indigenous People's and Frontline Communities Bloc; a Peace and Demilitarisation Bloc; a Farmers, Foresters and Landworkers Bloc; a Faiths and Beliefs Bloc; a Trade Union and Workers Bloc; the Climate Justice Bloc (their meeting point was a big "Uproot the system" balloon); and a Living Rent Housing Bloc.
 
The COP26 Coalition also organised a Digital Rally. Speakers included S'bu Zikode (Abahlali BaseMjondolo/South African Shack Dwellers). Available on YouTube (with a bit of marching at the beginning): www.tinyurl.com/peacenews3703
 
First mass arrest of scientists over the climate crisis: 15 members of Scientist Rebellion were arrested for blockading King George V bridge in Glasgow: scientistrebellion.com
7 – 10 November
The People's Summit for Climate Justice involved 199 in-person events at 12 different venues in Glasgow (including workshops, films, panels, performances, games and assemblies) as well as 70 digital events.
7 November
As part of the People's Summit, the first 'Our Time is Now' meeting talked about the need for a Just Transition. Speakers included Colette Pichon Battle (Red Black Green New Deal). Available on YouTube (starts at 6min 25sec): www.tinyurl.com/peacenews3704
8 November
Speakers at 'Our Time is Now #2' meeting in Glasgow included Tasneem Essop (executive director, Climate Action Network International). Available on YouTube: www.tinyurl.com/peacenews3705
 
Climate, Reparations, Decolonising Movement Assembly. Available on YouTube (starts at 2m 22s): www.tinyurl.com/peacenews3708
9 November
The Articulação dos Povos Indígenas do Brasil (the Articulation/Coalition of Indigenous Peoples of Brazil), Amazon Rebellion and Extinction Rebellion demonstrated outside the entrance to COP26 to raise the voices of frontline rainforest defenders. Two of their slogans: 'No more indigenous blood!' 'We have to reforest not only the world but also ourselves, minds, hearts'.
 
Indigenous Movement Assembly. Available on YouTube (starts at 5m 10s): www.tinyurl.com/peacenews3707
10 November
12 November
Led by indigenous groups, hundreds of people representing civil society groups and climate justice movements walked out of the COP26 venue demanding just and urgent solutions to climate crisis. 
 
They joined a rally outside organised by Fridays For Future Scotland and Extinction Rebellion Scotland.